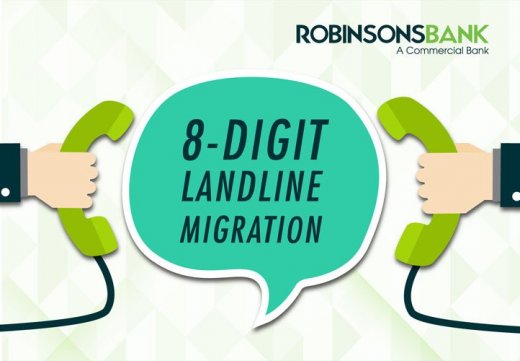 8-Digit Landline Migration
Starting October 6, 2019, please be informed that ALL ROBINSONS BANK TELEPHONE NUMBERS with area code "02" will be updated to the 8-digit format.
The new RBank telephone numbers will be the following:
·         Customer Care Center (C3) – (02) 8637-2273
·         Corporate Office – (02) 8702-9500
Meanwhile, the Domestic and International Toll-Free numbers will remain the same.
·         Domestic Toll-Free – 1-800-10-637-2273
·         International Toll-Free (US, Canada, Italy, Singapore and Hong Kong) – +80003957936
Callers who will dial the old 7-digit number from October 6, 2019 to January 5, 2020 will hear a reminder and instruction to dial the new 8-digit number.
During the migration period on October 6, 2019 from 12:00 AM to 5:00 AM, please expect downtime and interruption in telecommunication services. We highly encourage you to perform your calls before the scheduled migration period to avoid any inconvenience.
For any questions and concerns, you may reach us at (02) 637-CARE (2273) or c3@robinsonsbank.com.ph.