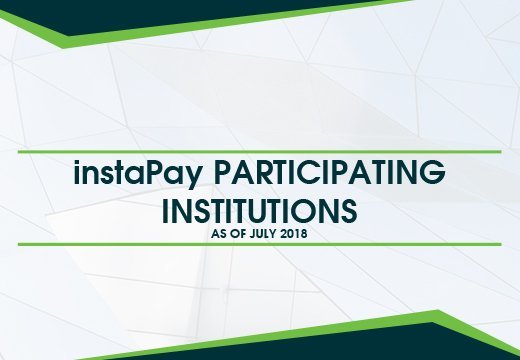 Sender/Receiver
1. Asia United Bank Corporation
2. BDO Unibank, Inc.
3. China Bank Savings, Inc.
4. China Banking Corporation
5. Equicom Savings Bank, Inc.
6. Maybank Philippines, Inc.
7. Metropolitan Bank and Trust Company
8. Philipipine Bank of Communications
9. Philippine Savings Bank
10. Rizal Commercial Banking Corporation
11. Security Bank Corporation
12. Union Bank of the Philippines
Receiver Only
1. Bank of Commerce
2. CTBC Bank (Philippines) Corporation
3. East West Banking Corporation
4. G-Xchange, Inc.
5. Land Bank of the Philippines
6. Malayan Bank Savings and Mortgage Bank, Inc.
7. OmniPay, Inc.
8. Partner Rural Bank (Cotabato), Inc.
9. PayMaya Philippines, Inc.
10. Philippine National Bank
11. Philippine Trust Company
12. RCBC Savings Bank, Inc.
13. Rizal Commercial Banking Corporation
14. Robinsons Bank Corporation
15. Sterling Bank of Asia, Inc. (A Savings Bank)
16. Sun Savings Bank, Inc.
17. United Coconut Planters Bank
18. Yuanta Savings Bank Philippines, Inc.