Additional working capital requirements


Purchase of machineries
and equipment
Loanable Amount
Minimum: P 300,000.00
Maximum: P 2,000,000.00
Loan Term
Minimum: 6 months
Maximum: 2 years
With business operating continuously and profitably for at least three (3) years
Filipino, at least 25 years old and not more than 65 years old at loan maturity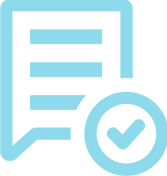 Completed mSME Application Form
Business Papers ( DTI/SEC Registration, Mayor's Permit, Articles of Partnership/Incorporation, By-Laws, General Information Sheet)
Last three (3) years of Income Tax Return (ITR) and Audited Financial Statement (AFS)
Last six (6) months bank statement or copy of passbook
Photocopy of two (2) valid IDs with specimen signature
Latest proof of billing (utility bill, credit card bill, etc.)
List of at least three (3) major supplier and customer
Visit Robinsons Bank Branch
Processing/Wait for the confirmation
Frequently Asked Questions
MSME stands for micro, small, and medium enterprises. In the Philippines, MSMEs are businesses in the industry, agriculture, and services sectors with less than Php100,000,000 in assets (excluding land assets) and less than 200 employees.
A business is considered a micro enterprise in the Philippines if it has assets of up to Php3,000,000 only and has 1 to 9 employees. If a business has assets worth more than Php3,000,000 but not more than Php15,000,000, and has 10 to 99 employees, it is considered a small enterprise.
Finally, a business can be considered a medium enterprise of it has assets worth up to Php100,000,000 and has 100 to 199 people employed. These classifications apply regardless of the type of business ownership (i.e, sole proprietorship, cooperative, partnership, or corporation).
In simple terms, an SME loan or MSME loan is a kind of loan offered by banks like Robinsons Bank and other financial institutions to help small businesses fund their operations. The proceeds of the loan can be used to provide capital, acquire assets like machines and supplies, and other business-related expenses.
Not all people who want to establish a business have ready resources. Some may already have savings allocated for their business, but these savings may not be enough to cover all expenses. Some may not have savings at all. By availing a Robinsons Bank mSME loan, you'll have more funds to sustain your business operations.
Existing businesses with an established clientele and income may also benefit from an mSME loan from Robinsons Bank. The loan proceeds may be used for business expansion in other locations, for example, or importing products that some customers have been looking for.
In short, whether you're only starting your business or have already gained some stable footing, an mSME loan can be greatly beneficial.
Robinson Bank offers its mSME loan to indiviadual at least 25 years old with business operating continuously and profitably for at least three (3) years.
The minimum amount for Robinsons Bank's SME loan is Php500,000.00 and the maximum amount is Php20,000,000.00. For the MSME loan, the minimum loan amount is Php300,000.00 and the maximum amount is Php2,000,000.
Robinsons Bank mSME loan has a term of up to 2 years, with an add-on rate of 1.50% per month or 18% per year. The mode of payment is through post-dated cheques.
mSME loan is a clear or non-collateralized loan. However, for security reasons, 20% of the loan proceeds will be under hold-out by Robinsons Bank until the loan is fully paid.