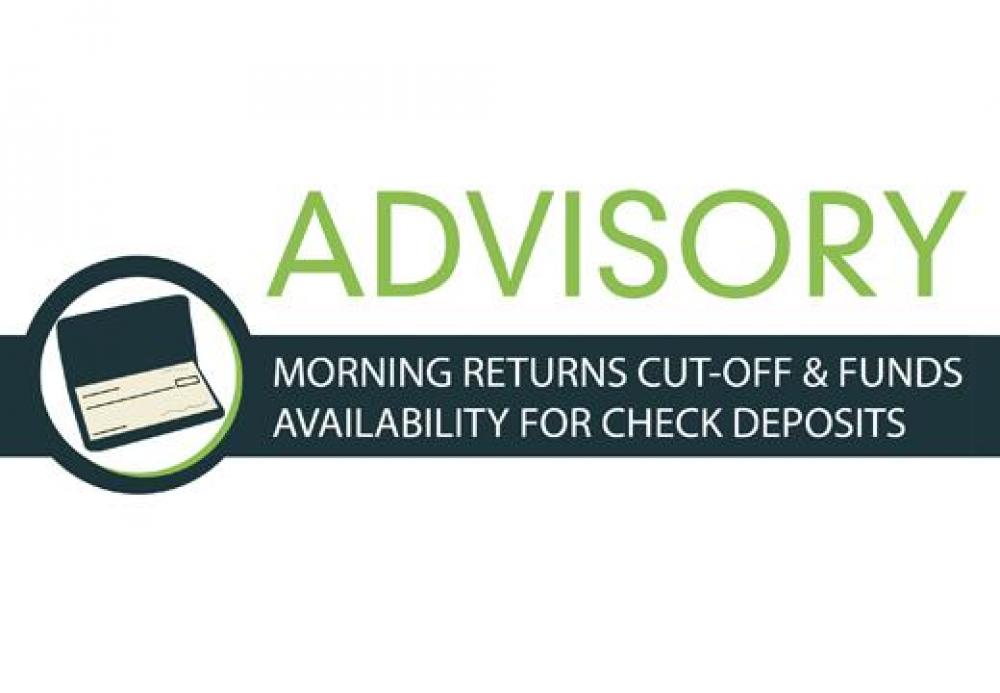 Morning Returns Cut-Off & Funds Availability for Check Deposits
PHILIPPINE CLEARING HOUSE CORPORATION
Manila, Philippines
To  :  All Clearing Banks/Institutions
Re :  MORNING RETURNS CUT-OFF & FUNDS AVAILABILITY FOR CHECK DEPOSITS
1. On the basis of BSP Circular 986 (RE: Amendments to the Cut-Off Time for Returned Items and Other Timelines in Appendix 39 of the Manual of Regulations for Banks), PCHC is likewise moving its Morning (AM) Returns Cut-Off time effective 01 February 2018 as follows:
FROM                                                  TO
7:30 AM                                              8:00 AM
2. The adjustment in the cut-off time was requested by representatives of the Clearing Officers of banks with justification that extension of the clearing window would capacitate them better to make funds on Check deposits available from the current T+1 by 3:00 PM to a much earlier time, i.e T + 1 by 10:00 AM.
3. With the request for extension of the AM Returns Cut-Off time already granted, banks should make funds available for Check deposits effective 01 February 2018, as follows:
FROM                                                   TO
3:00 PM of T + 1                       10:00 AM  or earlier on T + 1