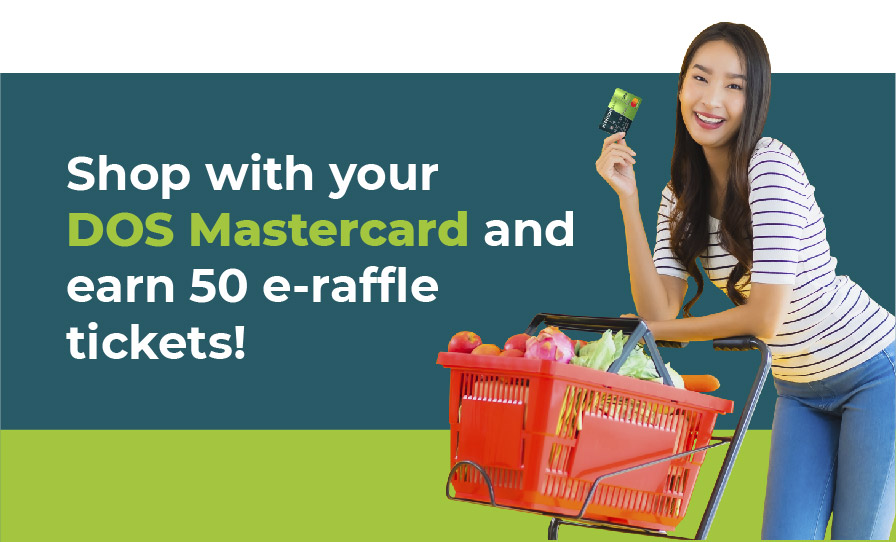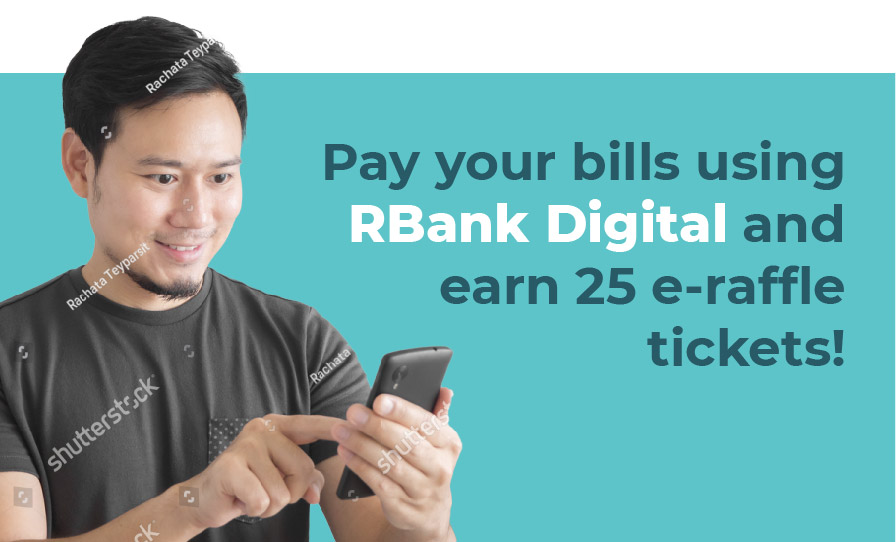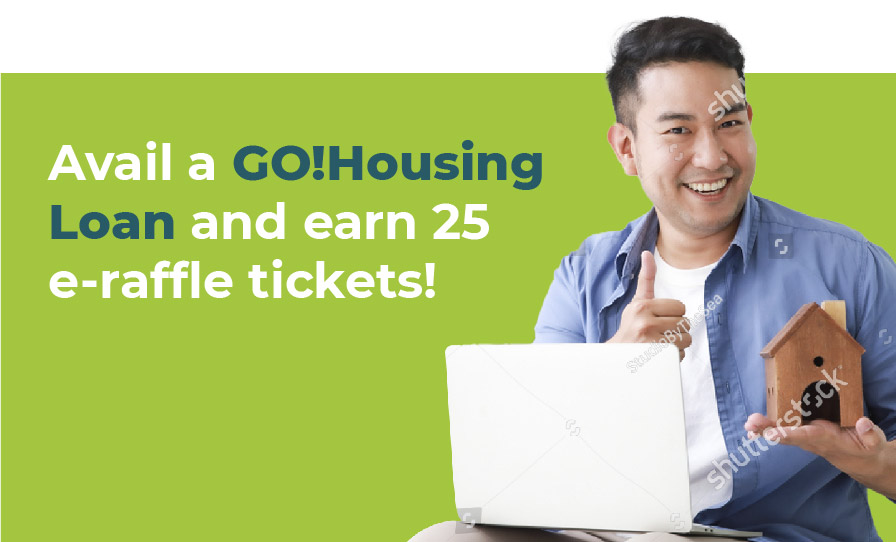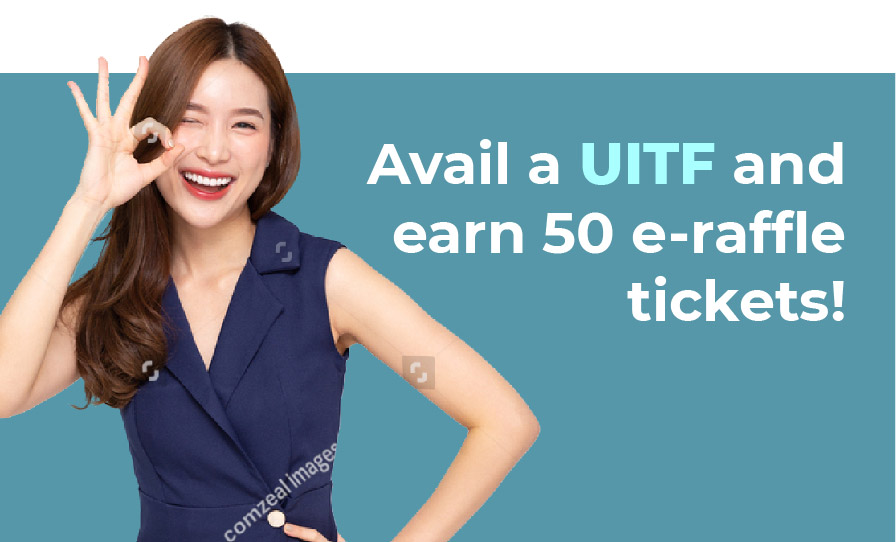 Ways to Earn e-Raffle Tickets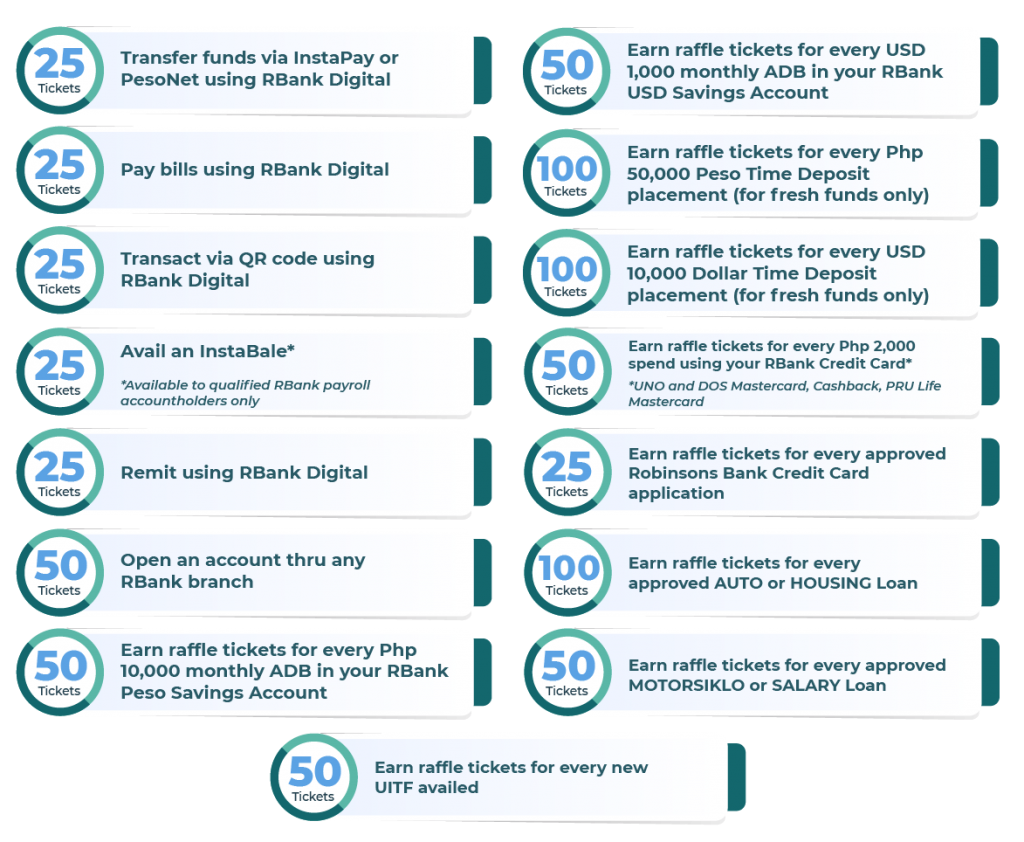 No registration is required to participate in the raffle. Qualified clients who make any of the following transactions are automatically entered into the raffle:

Open any individual deposit account
Avail of any RBank GO! Consumer loan
Transact using RBank Digital
Apply, activate, and use any Robinsons Bank credit card
Open a UITF investment during the promo period
Each transaction that a client completes will automatically let them earn a corresponding number of raffle tickets.
Transactions are aggregated per client to determine the total number of Raffle Tickets earned for a certain period.
Clients will be able to receive weekly notifications informing them of the e-raffle tickets earned and the total points (as of the current period). This will be sent via SMS, Email or RBank Digital app notification.
Any client who terminates his/her account by choice or due to the nature of the product during the promo period is disqualified from participating in the raffle.
This promo is open to new and existing Robinsons Bank consumers** who are residing in the Philippines.
**Eligible Robinsons Bank consumers:
Deposit Account holders
Credit Card holders
Trust and Investment Account holders
Loan Account holders
RBank Digital users
Note: Corporate / Business accounts are not eligible for the promo
Employees of Robinsons Bank Corporation and their relatives up to the 2nd degree of consanguinity and affinity are not eligible to join the promo.
RBank will conduct RAFFLE DRAWS on the following dates:

e-Raffle tickets collected from Sept. 01 to 30, 2022 -- 25 winners of Php 25,000 worth of Go Rewards Credits to be drawn on October 5, 2022
e-Raffle tickets collected from Sept. 01 to Oct 31, 2022 -- 25 winners of Php 25,000 worth of Go Rewards Credits to be drawn on November 5, 2022
e-Raffle tickets collected from Sept 01 to Nov 30, 2022 -- 25 winners of Php 25,000 worth of Go Rewards Credits to be drawn on December 5, 2022

A participant can only win once in all the draws. If the name is drawn more than once, the winner must get the prize with a higher value.
There will be a total of 75 unique winners of Php 25,000 worth of Go Rewards Credits
The raffle draw will be done via an electronic randomizer and will be witnessed by an authorized DTI representative and a Robinsons Bank representative at the Robinsons Bank Head office on the draw dates stated above.
RBank's decision to award the prizes to the selected winners with the concurrence of DTI-FTEB is final.
Raffle winners will be announced after each monthly draw.
Robinsons Bank will shoulder the 20% withholding tax for prizes exceeding Php 10,000.
The Prizes are not convertible to cash but transferable to any go rewards account that the winner provides and signs off on.
The winner will be notified by email and phone call through their Robinsons Bank- registered contact information. An RBank representative will get in touch with the winners to verify their identity and to give further instructions on prize redemption.
Robinsons Bank will reach out to the promo winners within seven (7) business days after the raffle draw has been completed.
Clients will be asked to visit the Head Office (Head Office) or the nearest RBank Branch (if outside Metro Manila/ or if from Visayas/Mindanao) to validate their identity.
Client will be asked to sign a document detailing the following:

Confirmation of receipt of the prize of P25,000 worth of Go Rewards credits.
Granting permission for RBank to announce their name as the winner of the AnniverSAYA Raffle Promo
Give permission to Robinsons Bank to take photos
Allow RBank to use the photos for their announcements related to the AnniverSAYA Raffle Promo

After consent has been given, winners will be announced on the official Robinsons Bank Facebook page.
Clients will be asked for an interview to be used for various features and promotional materials.
Videos and photos of participants may be used only for promotional ads related to the raffle.
P25,000 shall be credited to the Go Rewards card of the winning client
If the client has an existing GoRewards Card/Account, he/she must provide the his/her GoRewards Card/Account number to Robinsons Bank for crediting oh Php 25,000.
For clients without a GoRewards Card / Account:

They will be asked to download the GoRewards App and sign up for an account
Once they are able to open their accounts, they must provide their card number to Robinsons Bank for crediting of the Php 25,000.

The winner may claim his/her prize via their GoRewards Card/Account
Only unique and valid Robinsons Bank accounts can participate in this promo. RBank reserves the right to withdraw the prize should it be proven that the account is not unique or valid.
In case of disputes regarding customer's eligibility for the promo, coverage of dates, fulfillment, RBank's decision, in concurrence with the DTI, shall prevail.
Robinsons bank reserves the right to refuse the awarding of rewards or prizes to accounts that are proven to be invalid or fraudulent or a result of gaming (i.e. abuse of system or weakness in the promo to win prizes or receive benefits).
Failure to comply with any of the requirements or the terms and conditions herein will have the winners forfeit their winnings with prior approval from the DTI-FTEB.
With prior approval of DTI, RBank reserves the right to declare a forfeiture of the prize in the event that the winner fails to claim the prize within the allotted period of redemption.
Frequently Asked Questions (FAQs)
Q: How do I Join the RBank AnniverSAYA Raffle?A: No registration is required to participate in the raffle. Qualified clients who make any of the following transactions are automatically entered into the raffle:

open any individual deposit account
avail of any RBank GO! Consumer loan
transact using RBank Digital
apply, activate and use any Robinsons Bank credit card
open a UITF investment during the promo period

Q: How long is the raffle period?

A: The promo runs from September 1, 2022, to November 30, 2022.

Q: How can I earn e-raffle tickets?

A: You can earn e-raffle entries by doing any of the following transactions:

Open any individual deposit account
Maintain at least Php 10,000 monthly ADB
avail of any RBank GO! Consumer loan

GO! Housing Loan
GO! Auto Loan
GO! Motorsiklo Loan
GO! Salary Loan

Transact using RBank Digital

Fund transfer via Instapay and Pesonet
Bills Payment
Instabale
QR Payments
RBank Remit

Apply, activate and use any Robinsons Bank credit card

Robinsons Bank DOS Mastercard
Robinsons Bank Cashback Card
PruLife UK Card

Open a UITF investment during the promo period

Payday Money Market Fund
Equity Opportunity Feeder Fund
Equity Index Feeder Fund
Money Market Fund
Balanced Fund

Q: How many e-Raffle tickets do I earn for my transaction?

A:

Q: I don't have a Go Rewards Card, am I still eligible to join the raffle?

A: Yes, winners without a go rewards card or account can avail of one and the amount shall be credited there.

Q: Is the AnniverSAYA raffle open to all Go Rewards card holders?

A: Having a Go Rewards Card does not automatically make you eligible for the raffle. Only Robinsons Bank clients who make a qualified transaction will be automatically entered into the raffle.

Q: How many winners will be drawn?

A: There will be a total of 75 unique winners to be drawn for the whole promo period. 25 winners will be drawn each month, from September to November.

Q: When will the winners be announced?

A: There will be three (3) draws for the entire duration of the raffle promo

October 5, 2022 (First Draw)
November 5, 2022 (Second Draw)
December 5, 2022 (Third Draw)

Q: What if I close my account or terminate my credit card, am I still eligible to win?

A: No. Unfortunately, if you close your account or terminate your credit card during the promo period, you will automatically be disqualified to join the raffle.

Q: How do I know how many e-Raffle tickets I've earned?

A: Robinsons Bank will be sending you a bi-monthly SMS notification indicating the total number of e-raffle tickets you have earned.

Q: Are my e-Raffle tickets still good for the next monthly draw?

A: Yes. Your e-Raffle tickets will still be valid for the next monthly draw as long as your name has not yet been drawn.

Q: I used my Robinsons Bank Credit Card for purchases and I also deposited money into my Robinsons Bank account, will both transactions be eligible for e-Raffle tickets?

A: Yes both transactions will be credited toward your Anniversaya e-Raffle tickets. For Robinsons Bank Credit Card transactions, as long as you meet the minimum spend of Php 2,000, you will earn 25 e-raffle tickets and for your RBank account, you will make 50 e-raffle tickets for every Php 10,000 monthly ADB you maintain.

Q: How will I know if I win in the raffle?

A: The winner will be notified by email and phone call through their Robinsons Bank-registered contact information. An RBank representative will get in touch with the winners to verify their identity and to give further instructions on prize redemption.

Q: I won the Anniversaya raffle! What should I do to claim my prize?

A: Winners shall be contacted through their email addresses and mobile numbers officially registered in their Robinsons Bank account. Winners shall be asked to visit the Robinsons Bank head office or the nearest RBank Branch if in the province to validate their identity.

Q: Where can I use the Go Rewards credits I won from the raffle?

A: Your Go Rewards credits are just as good as cash. With your GoRewards points, you can shop in all GO Rewards partner merchants which include popular fashion brands, department stores, and travel, and leisure deals.  You can also visit the official website of Go Rewards for the complete list of perks, offers, and merchant partner