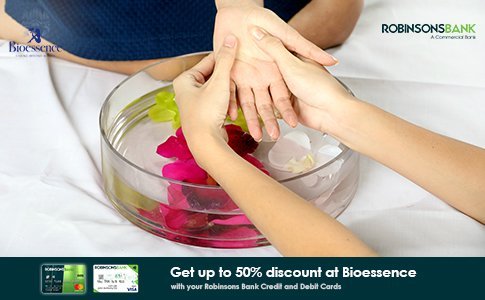 Bioessence – Robinsons Bank Promo
Partner Merchant
Bioessence
Participating Branches
All Bioessence branches
Target Audience
Robinsons Bank Platinum Mastercard Credit Card and Visa Debit Cardholders
Promotion Period: May 12 to June 30, 2019
Offer
50% off on warts removal
20% off on slimming packages
Free diamond peel for P1,200 and up worth of facial
Free hand paraffin for every one (1) whole body massage
Promo Mechanics
Promo period is from May 12 to June 30, 2019.
Promo offers are valid only within the promo period.
To avail of the promo, the cardholder must secure an appointment with Bioessence within the promo period.
To secure an appointment, cardholder must contact their preferred Bioessence branch and provide their preferred schedule.
Bioessence to provide the latest available schedules. Cardholders who will avail the promo must secure an appointment by choosing and confirming their preferred schedule.
Walk-in cardholders will not be entertained and will be asked to book for an appointment. Cardholders availing the promo booked on a different date will be asked to book for a new appointment.
To secure an appointment or inquiries, please refer to the list of Bioessence branches and contact details below.
Terms and Conditions
This promo is open to Primary and Supplementary Robinsons Bank Mastercard Credit Cardholders (UNO and DOS Platinum) whose account is active and in good standing and Robinsons Bank Visa Debit Cardholders (collectively, Robinsons Bank Cardholders)
To avail of the promo, Robinsons Bank Cardholders must charge the total purchase amount to their Robinsons Bank Credit or Debit Card within the promo period. Transaction must be approved.
Splitting of transaction to avail multiple promo items is not allowed.
Promotional items or services are not convertible to cash, discount, gift certificate or another item.
Promo is not applicable in conjunction with another promo.
In the purchase of goods and services which are on promotional discount, the senior citizen can avail of the promotional discount or the discount provided under Expanded Senior Citizens Act of 2010, whichever is higher.
In case of dispute but not limited to the Cardholder's eligibility, coverage dates and fulfillment, Robinsons Bank decision shall prevail, with the concurrence of DTI.
The Terms and Conditions governing the issuance of and use of Robinsons Bank Mastercard Credit Card and Visa Debit Card shall apply.
DTI Permit
Per DTI-FTEB Permit No. 8555 Series of 2019