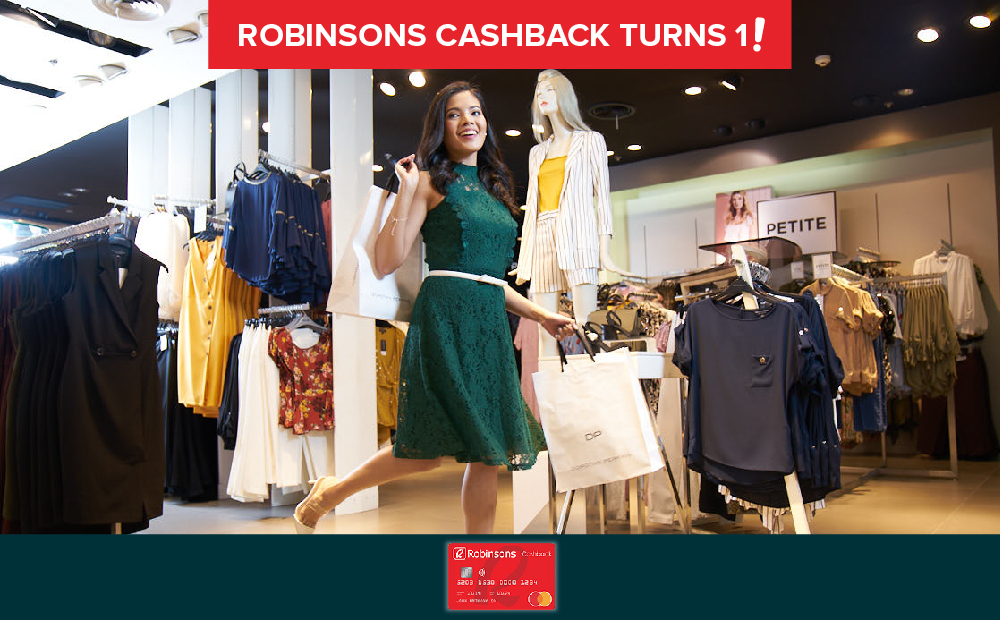 CASHBACK ANNIVERSARY RAFFLE PROMO
The promo is open to all Robinsons Cashback Credit Cardholders of good standing*.
Promo is from October 1-31, 2020.
Cardholders will earn raffle entries for every minimum single receipt of P3000 when used at RRHI stores:
5 Raffle Entries
1 Raffle Entry
RRHI Stores:

Robinsons Appliance
Robinsons Department Store
Robinsons Supermarket
South Star Drugstore
Toys R Us
Handyman
TrueValue / True Home by True Value
RSSI Beauty
Savers Appliance Depot
Robinsons Builders / A.M Builders Depot / Home Plus
 Daiso
Topman / Topshop / Dorothy Perkins / Warehouse / Miss Selfridge / Benefit / Burton Menswear / Club Clio / Shiseido / Pet Lovers Centre
Arcova
Rustans Supercenters Inc
Super 50 Corporation
*Raffle entries earned by the Supplementary Cardholder will be credited to the Principal Cardholder.
*Cardholders must update their mobile numbers with Robinsons Bank to receive email or SMS notification on earned raffle entries.
Raffle numbers will be computer generated and will be electronically drawn.
Raffle Draw will be on November 15, 2020.
10 Cardholders will win P10,000 cash credits to their Cashback Credit Card.
The electronic raffle will be held online in the presence of the representatives of Robinsons Bank and DTI.
P10,000 Cash Credits will be credited to the winners' Cashback credit card 30 days after the raffle draw.
A cardholder can only win once during the promo period. Once a Cardholder's name is drawn, he/she may no longer win on the succeeding draws.
The winning transaction should not be a reversed or disputed transaction at the time of the raffle draw and verification.
Winners will be notified via registered email and SMS within 15 banking days after the raffle draw.
The prize tax will be shouldered and paid for by Robinsons Bank.
The Cash Credits cannot be exchanged for other items or discount privileges and cannot be availed in conjunction with other promotions, and partners' VIP/Membership privileges.
The winner authorizes Robinsons Bank to disclose and publish his/her name, photos, and other particulars determined by Robinsons Bank deem appropriate for advocating the promotional activity. The winners may be required to participate in publicity programs which Robinsons Bank may organize from time to time in connection with the Promo and if so, such winners must attend the said functions. Expenses and/or costs in attending such functions will be shouldered by the winner.
All employees of Robinsons Bank, Robinsons Retail Holdings Inc., its advertising agencies, and their relatives up to the second degree of consanguinity or affinity are disqualified from joining the Promo.
Robinsons Bank holds the right to certify whether or not the winning cardholder is an eligible cardholder and his/her account satisfies the criteria set in the Promo mechanics.
By joining this promo, the Cardholder confirms that he/she has read, understood and agreed to the mechanics of the promo including, but not limited to, these terms and conditions.
Terms and Conditions Governing the Issuance and Use of Robinsons Bank Credit Card shall apply.
*Cardholders in good credit standing are those with Robinsons Bank credit cards which are not reported lost, stolen, whose accounts are not delinquent, not under investigation due to suspected fraud, and those who have not violated any of the Terms and Conditions Governing the Issuance and Use of Robinsons Bank Credit Cards.