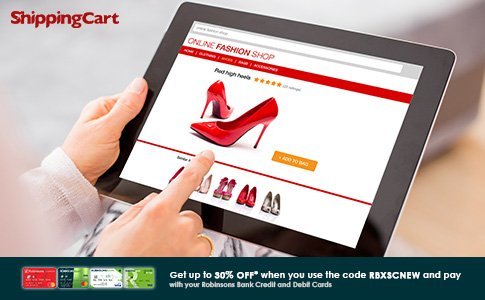 Robinsons Bank and Shipping Cart promo
Target Audience
Robinsons Bank Mastercard Credit Card and Visa Debit Card
Promo Offer
Get up to 30% OFF on shipping fees for new ShippingCart Users
Terms and Conditions
This promo is open to Primary and Supplementary Robinsons Bank UNO, DOS and Robinsons Cashback Mastercard Credit Cardholders whose account is active and in good standing* and Robinsons Bank Visa Debit Cardholders (the "Cardholders").
Promo Period is from March 1, 2020 to December 31, 2020
Shipping rates are subject to change based on prevailing exchange rate.
To avail of the promo, Cardholders must use their Robinsons Bank Credit and Debit Card to pay. Transaction must be approved.
Discount shall apply to the following:

*New ShippingCart customers will get 30% OFF on shipping fees, no minimum purchase amount and no minimum weight required. The 30% discount applies only on the first shipment. For succeeding shipments, use promo the code RBXSC2020.
Existing ShippingCart customers will get 15% OFF on shipping fees for a minimum shipping weight of 5 pounds. Standard shipping rates apply if shipping weight is below 5 lbs
*New ShippingCart customers are those who do not have existing or previous accounts with ShippingCart.
The promo code is valid for multiple use per cardholder as long as it is within the promo period.
This promo is not convertible to cash, gift certificate or other items.
This promo cannot be used in conjunction with other ongoing promotions or discounts offered by the merchant partner.
In case of dispute but not limited to the Cardholder's eligibility, coverage dates and fulfillment, Robinsons Bank decision shall prevail, with the concurrence of DTI.
The Terms and Conditions governing the issuance of and use of Robinsons Bank Mastercard Credit Card and Visa Debit Card shall apply.
How to Avail
Log in or create an account at https://www.shippingcart.com/
Once account is created, you will receive an email notification containing your U.S. and U.K. shipping address.
Use the address provided by ShippingCart upon checkout. Do not forget to include the Account Number.
Once item/s have been delivered to your ShippingCart address, you can consolidate the items on your ShippingCart account within 30 days.

How to consolidate:

Go to ShippingCart and look for the "cart" tab
Click view to view the photo of the item. This will serve as visual confirmation of the items received
Select the items you want to consolidate in one package
To proceed, select a shipment option: Air Cargo or Sea Cargo
Upon checkout for delivery to the Philippines, select Credit Card as Payment option and enter the details of your Robinsons Bank Mastercard Credit or Visa Debit Card.

Use the promo codes below.

Qualified Cardholders
Promo Offer
Minimum Weight Requirement
Promo Code
New ShippingCart Customers Only
30% OFF*
None
RBXSCNEW
New and Existing Shipping Cart
15% OFF**
5 lbs
RBXSC2020
*Applicable on the first shipment only
**Can be used multiple times

The discount will be deducted from the total amount of the shipping fee.
DTI Permit
Per DTI Fair Trade Permit No. FTEB – 03931 Series of 2020
Note: For ShippingCart related inquiries and concerns, please email: customercare@shippingcart.com