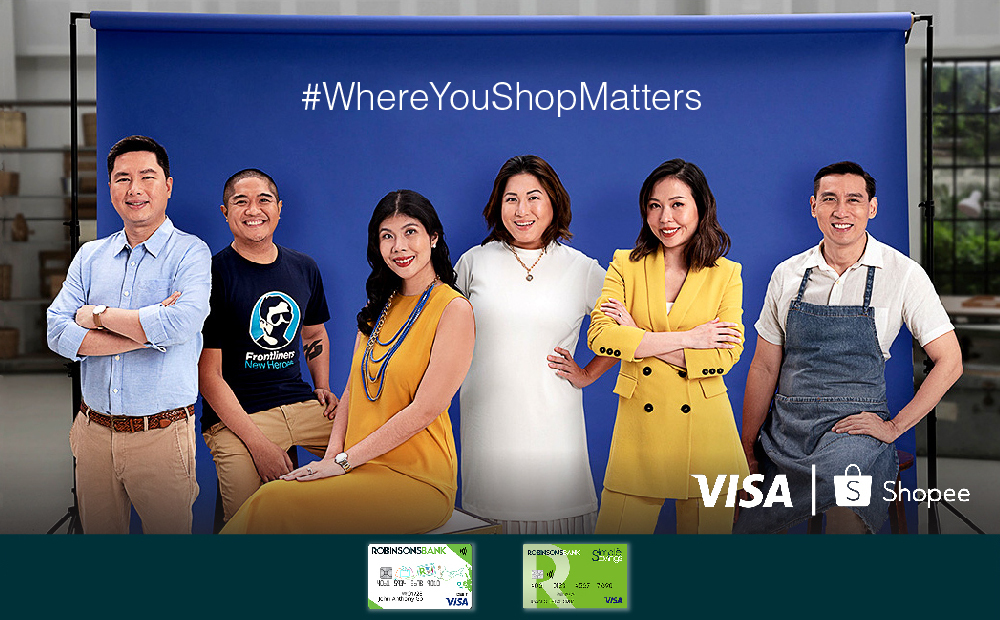 VISA SHOP LOCAL AND GET REWARDED
Promotion Mechanics
On August 15-September 15, 2020, users can get up to 80% discount on select items from participating stores on Shopee.
On August 15-September 15, 2020 users can a claim P100 voucher discount (P200 on September 9, 2020 only). Discount
voucher can be used when users shop using their Visa card on local shops on the Shopee app.
Qualifications:
Aug 15-Sep 15 (except Sep 9) Get P100 off for a min spend of P1500
Sep 9 Get P200 off for a min spend of P1500
How to Avail:
1. Shop using the Shopee mobile app.
2. Go to the Shopee x Visa microsite and claim Visa discount voucher.
3. Browse through the featured items and select the ones you wish to purchase and click "BUY NOW".
4. To proceed with checkout, enter your e-mail address and shipping details.
5. Select the claimed voucher in the Voucher section.
6. Click "Select payment method" and choose "Credit/Debit Card" as option.
7. Select or add your participating Credit/Debit Card and click "Confirm".
8. Promo discount will be applied to your purchase upon checkout.
9. Promo discount can be used in purchasing items from local shops that have at least of one these labels: Mall /
Preferred/ Free Shipping Special.
10. Promo is only valid on orders to be delivered via integrated couriers.
Customer Support:
For any questions or clarifications, please contact Shopee's Customer Service at (02) 88805200 or email
support@shopee.ph
Terms and Conditions:
Qualified cardholders are entitled to avail of the promo discount from Shopee within the applicable promo period.
Promo discount is valid for new and existing Shopee registered customers.
Promo discount cannot be applied retroactively.
The offer cannot be exchanged for cash or other products.
The promo is non-cumulative and cannot be used in conjunction with any other credit card discount promotions.
By joining this promo, the user confirms that he/she has read, understood and agreed to the promo mechanics and its Terms & Conditions.
Shopee reserves the right not to award the discount to users suspected to be invalid or fraudulent with prior approval of DTI.
Shopee reserves the right to vary these Terms & Conditions with prior approval of DTI.
Visa Terms and Conditions
1 Eligibility
1.1 The Promotion is open to all principal and supplementary holders of Visa Platinum, Visa Signature and Visa Infinite cards issued in the Philippines and abroad ("Cards") ("Cardholders").
2 Promotion Mechanics and Conditions
2.1 The Promotion commences on August 15, 2020 and ends on September 15, 2020 ("Promotion Period"). All transactions must be made within the Promotion Period to avail of the Promotion.
2.2 To avail of the offer/s, Visa cardholder needs to settle his/her bill using his/her Visa Platinum, Visa Signature or Visa Infinite card.
2.3 Offers/freebies are not convertible to cash.
2.4 Merchant has restrictions on the use of the promotional offers, please refer to the website for the details.
2.5 A principal Card account is treated separately from the supplementary Card account. Transactions for the principal account will be considered separate from transactions of the supplementary account and vice versa.
2.6 This promotion cannot be used in conjunction with any other merchant promotion and discount.
2.7. In the purchase of goods and services which are on promotional discounts, the Senior Citizen can avail of the promotional discounts or the discounts provided under the Expanded Senior Citizen Act of 2010, whichever is higher.
Per DTI-FAIR TRADE Permit No. FTEB-103563 Series of 2020