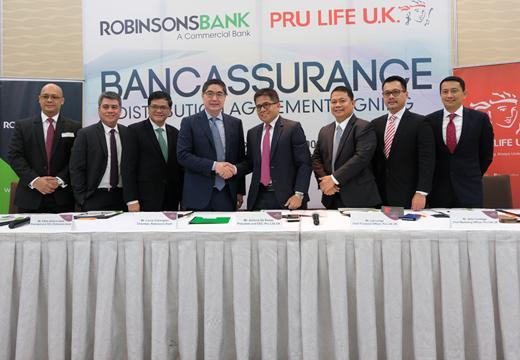 Robinsons Bank and Pru Life UK Establish Bancassurance Partnership
Robinsons Bank to make protection within its customers' reach through Pru Life UK's innovative life insurance products.
Robinsons Bank and Pru Life UK signed the distribution agreement to formally announce their bancassurance partnership on January 9, 2018 in Crowne Plaza Galleria Manila (From left to right: Mr. Edward Eli Tan, Branch Sales Division Deputy Head, Robinsons Bank, Mr. Salvador Paps, Retail Banking Segment Head, Robinsons Bank, Mr. Elfren Antonio Sarte, President and CEO, Robinsons Bank, Mr. Lance Gokongwei, Chairman, Robinsons Bank, Mr. Antonio De Rosas, President and CEO, Pru Life UK, Mr. Lee Longa, Chief Financial Officer, Pru Life UK, Mr. Allan Tumbaga, Chief Marketing Officer, Pru Life UK, and Mr. Ramon Garcia, Business Development Head, Pru Life UK)
9 JANUARY 2018/QUEZON CITY – Gokongwei-led Robinsons Bank and British life insurer Pru Life UK today announced the establishment of a strategic bancassurance partnership in a distribution agreement signing held at Crowne Plaza Galleria Manila. Through this partnership, Robinsons Bank will be able to further serve its network of customers by providing them life insurance products that will complement access to comprehensive financial protection, subject to regulatory approval. Demand for life insurance products has been rising in the Philippines, buoyed by continued economic growth, growing affluence on the back of an expanding middle class, and a low insurance penetration rate.
Elfren Antonio Sarte, Robinsons Bank President and Chief Executive Officer (CEO), said, "Bancassurance has always been a significant part of our 'Roadmap to 2020' strategic plan, and it is important that we find the right partner who would help us deliver the best product choices to our customers. After a lengthy search, we are happy to announce our partnership with Pru Life UK, a well-regarded insurance company with considerable experience and wide global presence."
Antonio De Rosas, Pru Life UK President and CEO, said, "We are very pleased to kick off 2018 by having Robinsons Bank as our new partner. By combining our quality product offering with Robinsons Bank's strong distribution platform, we are confident this alliance will benefit Robinson Bank's customers by providing them with easy access to Pru Life UK's solutions that suit their growing protection needs. We look forward to building a strong relationship with Robinsons Bank as we continue to fulfil our goal of making life better for Filipinos through our life insurance products and solutions."

About Pru Life UK
Established in 1996, Pru Life UK is a subsidiary of Prudential plc. Pru Life UK is a life insurance company and is not engaged in the business of selling pre-need plans. Prudential plc is a United Kingdom-registered company. Its regional headquarters, Prudential Corporation Asia, is based in Hong Kong. Pru Life UK and Prudential plc are not affiliated with Prudential Financial, Inc. (a US-registered company), Philippine Prudential Life Insurance Company, Prudentialife Plans, Inc. or Prudential Guarantee and Assurance, Inc. (all Philippine-registered companies).
For more information: www.prulifeuk.com.ph
About Robinsons Bank
Robinsons Bank is majority-owned by JG Summit Holdings, Inc. To date, the Bank has 134 branches nationwide and there remains expansion plans in the future.  Likewise, products and services are continuously being improved to fulfill the customers' needs and requirements.  It has for its cornerstone an extensive business portfolio, a solid financial position, a formidable management team, and a vision to be the Bank of Choice.
For more information: www.robinsonsbank.com.ph