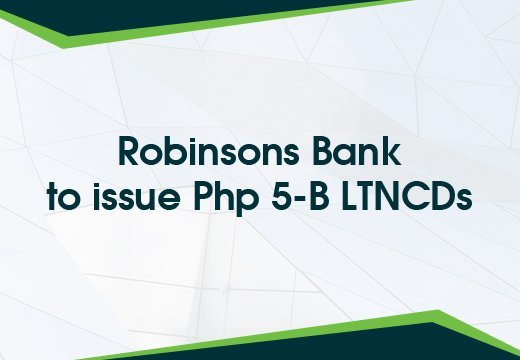 Robinsons Bank to Issue Php 5-B LTNCDs
Robinsons Bank is set to issue Php 5 billion long-term negotiable certificates of deposits (LTNCDs) to support the bank's expansion initiatives and diversify the maturity profile of its funding sources. The board of Robinsons Bank has approved the issuance of such LTNCDs in one or two tranches over a period of one year.
LTNCD is a deposit product with longer maturity and offers higher returns compared to regular deposit. This instrument is negotiable and insured by the Philippine Deposit Insurance Corp. (PDIC) up to a maximum coverage per depositor at P500,000 presently.  If held for more than five years, this instrument is tax exempt for qualified individuals.
The bank will offer LTNCDs with a tenor of 5.5 years and a rate in the area of 4.875%. The instrument will be issued in minimum denominations P50,000 and increments of P10,000 thereafter.  The offer period is set from June 28 to July 9, 2018.
The BSP Monetary Board approved the bank's LTNCD issuance last June 5, 2018.  The bank has tapped ING Bank NV as the sole arranger, bookrunner, and selling agent, while Robinsons Bank will also act as a selling agent for this offering.
Orders can be booked in any branch near you or thru the bank's Treasury Segment Account Officers as follows:
·         Binggay Sanchez at 702-9535
·         Rodney Cruz at 702-9531
·         Cory Samson at 702-9556
·         Jamie Hizon at 702-9558
·         Mark Salvador at 702-9557