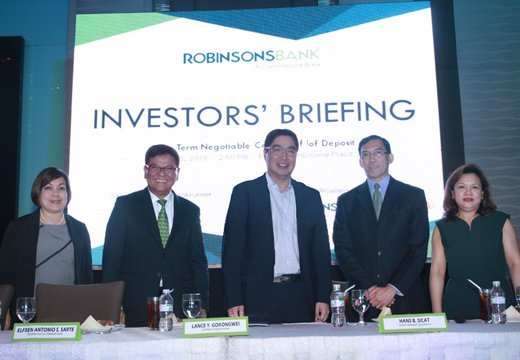 Robinsons Bank to Issue Php 5 Billion LTNCDs
Robinsons Bank and ING Bank N.V. conducted their LTNCD Investors' Briefing last July 28, 2018 in Crowne Plaza Hotel, Ortigas Center. (Photo from left to right: Ms. Ma. Regina Lumain, Robinsons Bank Treasurer, Mr. Elfren Antonio Sarte, Robinsons Bank President and CEO, Mr. Lance Gokongwei, Robinsons Bank Chairman, Mr. Hans Sicat, ING Bank Country Manager, and Ms. Rowena Bayoneta, ING Bank Manila Branch Head of Debt Capital Markets)
JUNE 28, 2018 – Robinsons Bank (RBank), together with ING Bank N.V., conducted their Long-term Negotiable Certificates of Deposits (LTNCD) Investors' Briefing at Crowne Plaza Hotel, Ortigas Center.
RBank is set to issue Php 5 billion LTNCDs to support the bank's expansion initiatives and diversify the maturity profile of its funding sources.  The board of RBank has approved the issuance of such LTNCDs in one or two tranches over a period of one year.
LTNCD is a deposit product with longer maturity and offers higher returns compared to regular deposit. This instrument is negotiable and insured by the Philippine Deposit Insurance Corp. up to a maximum coverage per depositor at P500,000 presently. If held for more than five years, this instrument is tax exempt for qualified individuals.
The bank will offer LTNCDs with a tenor of 5.5 years with a rate of 4.875%. The instrument will be issued in minimum denominations of P50,000 and increments of P10,000 thereafter. The offer period is set from June 28 to July 9, 2018.
The Bangko Sentral ng Pilipinas Monetary Board approved the bank's LTNCD issuance last June 5, 2018. The bank has tapped ING Bank N.V. as the sole arranger, book runner, and selling agent, while Robinsons Bank will also act as a selling agent for this offering.
The bank has earned a solid measure of trust and confidence, gaining wide preference as a commercial bank over two decades of commitment to fulfill the clients' changing needs. The bank continuously develops exciting products and to deliver broader customer experience.
For inquiries and concerns, you may reach Robinsons Bank through its Customer Care Center at (02) 637-CARE (2273) or domestic toll-free 1-800-10-637-CARE (2273); or visit its website at www.robinsonsbank.com.ph. Like us on Facebook at www.facebook.com/robinsonsbank/ and follow us on Twitter @RBankCorp.