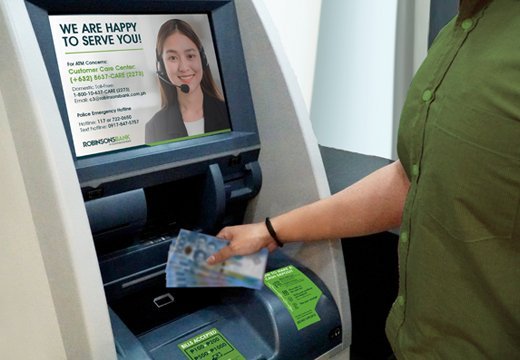 The Robinsons Bank Cash Deposit Machine is Now Available
Avoid long lines at branches and deposit cash instantly to your RBank account with the new Cash Deposit Machine.
How to use the Cash Deposit Machine:
FAQs:
1. What is Cash Deposit Machine?
CDM is an automated self-service solution allowing clients to deposit cash into any valid and active Robinsons Bank Savings or Checking Account.
2. What type of transactions are available in the CDM?
• Balance Inquiry
• Cash Deposit (with card and without)
• Change PIN
3. What are the accepted denominations for the CDM?
The machine accepts 1000, 500, 200 and 100.
4. What type of note quality does the CDM accept?
The machine accepts notes so long as they are genuine and free of tears, cuts, folds, tape, pins and clips. Severely damaged notes and counterfeit will be rejected by the machine.
5. What is the maximum number of bills per transaction?
Accept a maximum of 150 notes, regardless of denomination, per transaction.
6. Is there a transaction fee?
No fees.
7. How soon will the cash deposit be reflected on the account?
Cash deposit will be credited and available real-time.
8. What to do when the transaction was not credited to the account?
File complaint to the branch and fill-up the complaint form with complete details. If transaction receipt is available, kindly provide a copy.
9. What to do if it was erroneously deposited to another account?
Immediately inform the branch and provide all pertinent information. Since transaction was confirmed by the depositor, the bank will attempt to help retrieve the amount that was deposited to the wrong account.
Available 24/7 at the following branches (as of January 29, 2020):
•BGC – Rizal Drive
•Adriatico
•Cyber Scape Gamma
Coming soon:
•Galleria Park Avenue
•Clark Global City