No Maintaining Balance Required


Monitor your account online

Virtual and Physical card
Available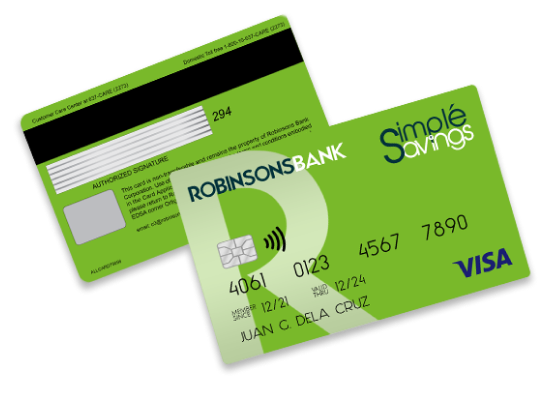 | | |
| --- | --- |
| Initial Deposit | PHP 100.00 |
| Payment for Debit Card | PHP 150.00 |
| Maintaining Balance | ZERO maintaining balance |
| Interest Rate per Annum | 0.10% |
| Balance to earn Interest | PHP 500.00 |
| Maximum Account Balance* | PHP 45,000.00 |
How to open an account online?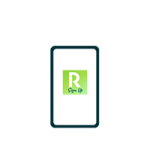 Download the RBank Sign-Up App. Available on IOS and Android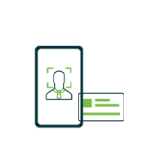 Take a selfie and take a photo of your Valid I.D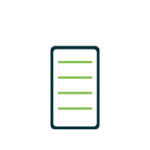 Fill out the form and then verify your mobile number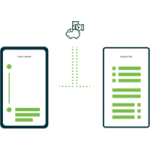 Fund your Account now to experience hassle-free banking
Detailed Features
Details/ Amount/Fee
Service Fees
Domestic ATM Transaction
ATM Withdrawal
       Using Robinsons Bank ATM
Php 5.00
       Using Non-Robinsons Bank ATM
Php 5.00 (on top of other bank's ATM charge)
Balance Inquiry
       Using Robinsons Bank ATM
Php 2.00
       Using Non-Robinsons Bank ATM
Php 2.00 (on top of other bank's ATM charge)
International ATM Transaction
       ATM Withdrawal
Php 200.00
       ATM Balance Inquiry
Php 40.00
Card Replacement Fee
Php 150.00
Over-the-counter Withdrawal
Php 100.00
Inter-branch Withdrawal / Deposit
Php 125.00
Transaction Limits
Min. ATM Withdrawal
Php 100.00/ transaction
Max. ATM Withdrawal
Php 15,000.00/ transaction
Php 45,000.00/ day
POS/ Online Transaction Limit
Php 45,000.00/ transaction
Other Feature/Add-on
Can be enrolled in:
Frequently Asked Questions
A savings account is a basic type of bank account that bears interest and allows you to easily deposit and withdraw money. Typically offered by financial institutions like banks and credit unions, savings accounts are a safe and convenient way to save money while also providing the account holder the flexibility to easily obtain money when they need it.
A savings account can be ideal for keeping money that you can use for your daily expenditures, while it is also something that you can use to build your emergency fund. A savings account also allows you to temporarily park your cash if you're saving up for big-ticket purchases, like a new laptop computer, a plane ticket to Europe, or a piece of jewelry that you are planning to gift yourself or your loved one with.
The main difference between a savings and checking account is that the former is designed more for saving while the other is designed more for spending. As such, checking accounts usually have low interest rates or none at all, but bank customers can easily use them to issue checks for payments and purchases.
However, that doesn't mean that a savings account is inconvenient for payments. For example, with a Robinsons Bank Simplé Savings Account, it's easy to pay for the things you need since you can get a debit card to go with your account for a low fee of just PHP 150. You can then use this card to withdraw money from ATMs and to purchase items from online stores and brick-and-mortar shops.
There are several benefits to opening a savings account. Here are some of them:
Allows You to Build an Emergency Fund
Opening a savings account like Robinsons Bank Simplé Savings Account allows you to save a bit of money for the rainy days. Ideally, you should have between 3 to 6 months' worth of living expenses covered by your emergency fund, which you can use for unforeseen expenses like paying for unexpected medical bills or paying for your food and rent when you suddenly lose your source of income.
Helps You Keep Your Money Safe
The old Filipino practices of keeping wads of cash under the bed, inside a drawer, or under the cover of a baul are risky ways of keeping one's money. Your cash could get stolen, get destroyed in a fire, get submerged during a flashflood, and so on and so forth. Keeping your money in a bank removes all physical risks, and under the law, it is even insured up to a maximum amount of PHP 500,000 by the Philippine Deposit Insurance Corporation (PDIC).
Keeps Your Money Liquid and Easy to Access
By keeping your money in a savings account, it remains liquidated, meaning it remains as cash on hand that you can withdraw anytime. For example, with the Robinsons Bank Simplé Savings Account, you can withdraw a maximum of PHP 45,000 per day through an ATM (PHP 15,000 per transaction).
Of course, this can be disadvantageous for those who are easily tempted to make big-ticket purchases without much thought. However for those who are responsible with their money and only get cash for absolutely necessary things, this liquidity is the ultimate convenience of having a savings account.
Helps You Save for Your Short-Term Goals
Do you want to save money that you can use to go on a dream holiday, to buy a new car, or to purchase wedding rings for yourself and your spouse? Saving money in a savings account is the easiest and safest way to do it. You can even open a savings account especially for the purpose of saving up for such short-term goals, which makes it easier for you to separate the money you're saving for your emergency fund and the money you're parking for your daily expenses.
Helps You Protect Your Wealth While Earning Some Interest
Having a savings account is one of the best ways to secure your money while taking advantage of a small interest. Of course there are specific investment instruments for that purpose. However, there is no guarantee when it comes to investments, so you always have to have part of your wealth portfolio saved in safer forms of instruments like bank accounts.
A savings account is as safe as it can be, and it can even help you earn a modest interest over time. With a Robinsons Bank Robinsons Bank Simplé Savings Account, you get an interest rate per annum of 0.10%.
Deposits are Insured by PDIC up to Php 500,000 per depositor.