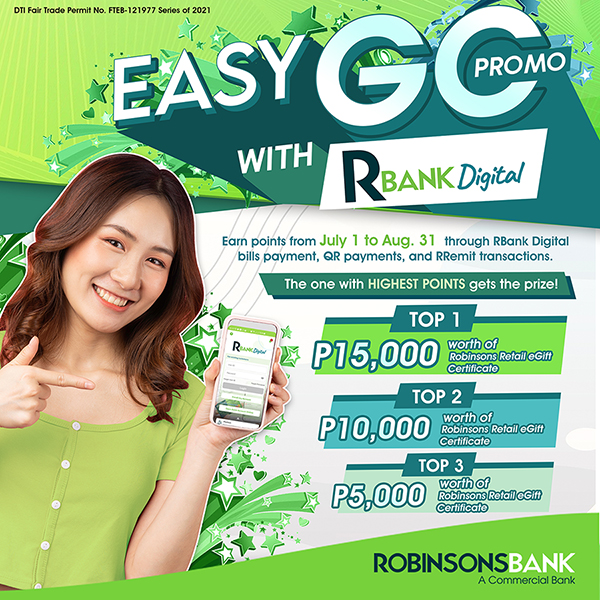 Easy GC Promo with RBank Digital
PROMO MECHANICS:
Promo Name: Easy GC Promo
Promo Duration: July 1, 2021 to August 31, 2021
Qualifications: 
1. The promo is open to newly-enrolled and existing RBank Digital users
2. Robinsons Bank employees and relatives up to 2nd degree of affinity or consanguinity are disqualified in joining the promo.
General Mechanics:
3. Top 3 RBank Digital users who will accumulate the highest points will win incentives:
Top 1:  PHP 15,000 worth of Robinsons e-Gift Certificate
Top 2:  PHP 10,000 worth of Robinsons e-Gift Certificate
Top 3:  PHP 5,000   worth of Robinsons e-Gift Certificate
How to Earn Points:
| | |
| --- | --- |
| Transactions / Activity | Points Earned |
| Successful Enrollment (for new users) | 5 points |
| Existing RDX users (1st log-in during Promo period) | 5 points |
| Bills Payment* | 1 point |
| Payment via QR* | 1 point |
| RRemit (Remittance Service)* | 1 point |
*Notes:
Clients who use Bills Payment, Payment via QR, and RRemit are entitled to one (1) point for every successful transaction (should be minimum of PHP 100.00 for every transactions).
Point Calculation and Prize Redemption:
5. Robinsons Bank will extract all points per user which will determine the top 3 RBank Digital users who garnered the highest points
In case of a tie, user with the highest total peso amount transacted will be the chosen winner (1st place), and the other will be in the 2nd place.
Extraction of data shall be done with the presence of a DTI representative.
6. Robinsons Bank will send an email/SMS to all RBank Digital users every 15th and/or 30th of the month for their accumulated points.
7. Robinsons E-Gift Certificate will be sent to winners' registered email and SMS.
8. 20% tax on prizes exceeding P10,000 will be shouldered by Robinsons Bank.
9. Prizes are transferable but not convertible to cash.
Selection of Winners/Data Extraction with DTI representative
10. Date: September 8, 2021
11. 10:00 AM to 11:00 AM
Announcement of winners
12. September 10, 2021
13. The winner's name may be published on Robinsons Bank website & social media channels:
a. Website: www.robinsonsbank.com.ph
b. Facebook: www.facebook.com/robinsonsbank
c. Twitter: https://twitter.com/RbankCor
DTI Fair Trade Permit No. FTEB-121977 Series of 2021