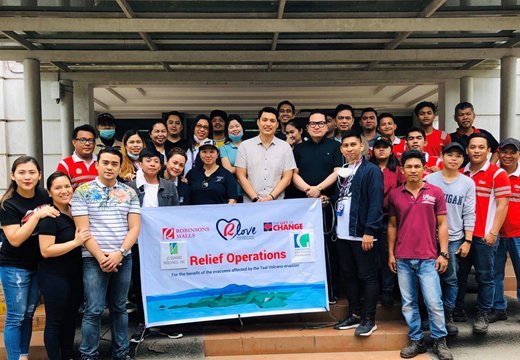 Gokongwei Group Employees Lead Relief Efforts to Aid Taal Victims
In a show of concern and solidarity for the residents of the communities affected by the ongoing Taal Volcano activity, employees of the 75,000-strong Gokongwei Group, composed of JG Summit Holdings business units, Robinsons Retail Holdings, Inc. (RRHI) companies, and the Summit Media Group, have demonstrated once again the bayanihan spirit to help fellow Filipinos in times of calamity.
Volunteer employees from JG Summit (composed of URC, Robinsons Land Corp., JG Summit Petrochemicals Group, Robinsons Bank, and Cebu Pacific), RRHI, and Summit Media, working with the Gokongwei Brothers Foundation (GBF), the conglomerate's philanthropic arm, have spearheaded and mobilized a disaster relief effort to help displaced residents who are now being housed in several evacuation centers in Batangas province.
The Gokongwei Group's Strategic Business Units quickly provided relief goods to assist the local government units (LGUs) who are hosting evacuees in their respective areas. Gokongwei Group employees led the distribution of basic necessities such as water, rice, canned goods, medicines, toiletries, and new underwear to the hundreds of families now seeking shelter in the evacuation centers.
Robinsons Land Corp. provided relief goods for evacuees in Tagaytay and Lipa City while URC responded by helping the sugarcane farmers in the towns of Balayan, Tuy, and Alitagtag. In partnership with the Batangas provincial and city government, JG Summit Petrochemical Group supported the evacuees at the Batangas Sports Complex.
This humanitarian initiative is emblematic of the Gokongwei Group employees' strong sense of volunteerism, and is deeply reflective of their pakikiramay (sympathy) and pakikiisa (kinship) for their affected countrymen.
#WeAreTheGokongweiGroup #ThePeopleoftheGokongweiGroup #WeAreJGSummit #ProudToBeJGSummit