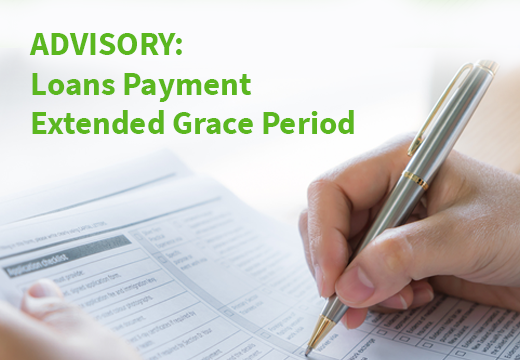 Loans Payment Extended Grace Period
In compliance with the "Bayanihan to Recover as One Act" (Bayanihan 2) and its Implementing Rules and Regulations (IRR), the Bank is updating its advisory and re-issuing its FAQs to address your queries on the 60-day grace period extension for consumer loans falling due from September 15 to December 31, 2020.
Period Covered
September 15, 2020 – December 31, 2020
Grace Period
One time sixty (60) day grace period
What loan products are covered?
Home Loan
Auto Loan
Personal Loan
mSME Loan
SBL Term Loan
Employee Loans
Sales Contract Receivables
Motorcycle Loans
Others: Letters of Credits, Bills Purchase, Guarantees and other contingent facilities)
Restructured Consumer and Employee Loans (subject to evaluation)
Who are eligible for the grace period?
All loans that are existing, current and outstanding as of 15 September 2020.
How will I know if I am qualified?
Please refer to eligibility criteria above.
SMS or Email notification shall be sent to the declared/enrolled contact information provided in your loan application or to the updated/latest contact information provided to the Bank.
Do I need to inform the Bank if I wish to avail of the relief?
Yes, should you wish to avail of the one-time 60-day grace period, please notify the bank on or before Oct 10, 2020. Otherwise, Post Dated Checks (PDCs) / Auto Debit Arrangement (ADA) / Salary Deduction shall be implemented.
Note that the chosen payment option shall be considered as final.
Where should I send payment option request?
| | |
| --- | --- |
| Product | Email Address |
| Personal Loans – JG accredited companies | B2PLPJG@robinsonsbank.com.ph |
| Personal Loans – Accredited companies | B2PLPnonJG@robinsonsbank.com.ph |
| Personal Loans – Direct | B2PLPDirect@robinsonsbank.com.ph |
| Home Loans | B2Home@robinsonsbank.com.ph |
| Auto Loans | B2Auto@robinsonsbank.com.ph |
| SBL/mSME | B2SBLMSME@robinsonsbank.com.ph |
| Motorcycle Loans | mccollectionunit@robinsonsbank.com.ph |
Please ensure to send your final payment option (following the template shown below) to the designated email address per loan product.
Please be advised that I chose Payment Option ___ and I agree to the conditions pertaining to the said payment option.
Name of Client: ___________
Contact/Mobile Number: ___________
Email Address: ___________
Loan Account Number: ___________
Loan Type: ___________
Payment Options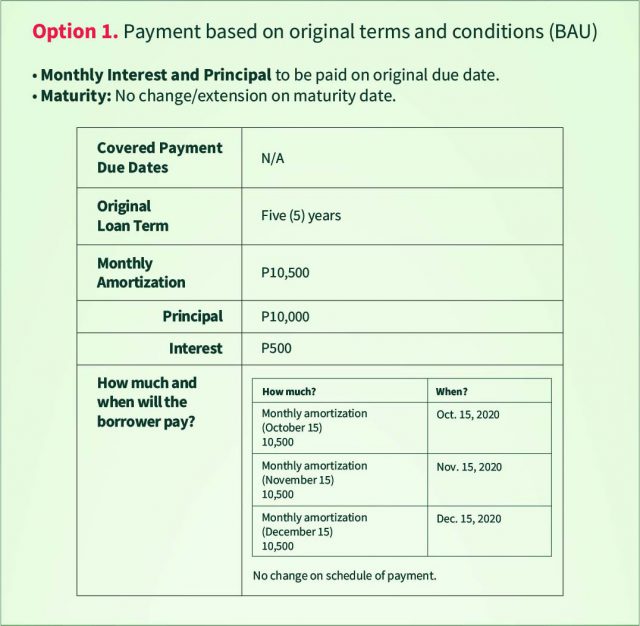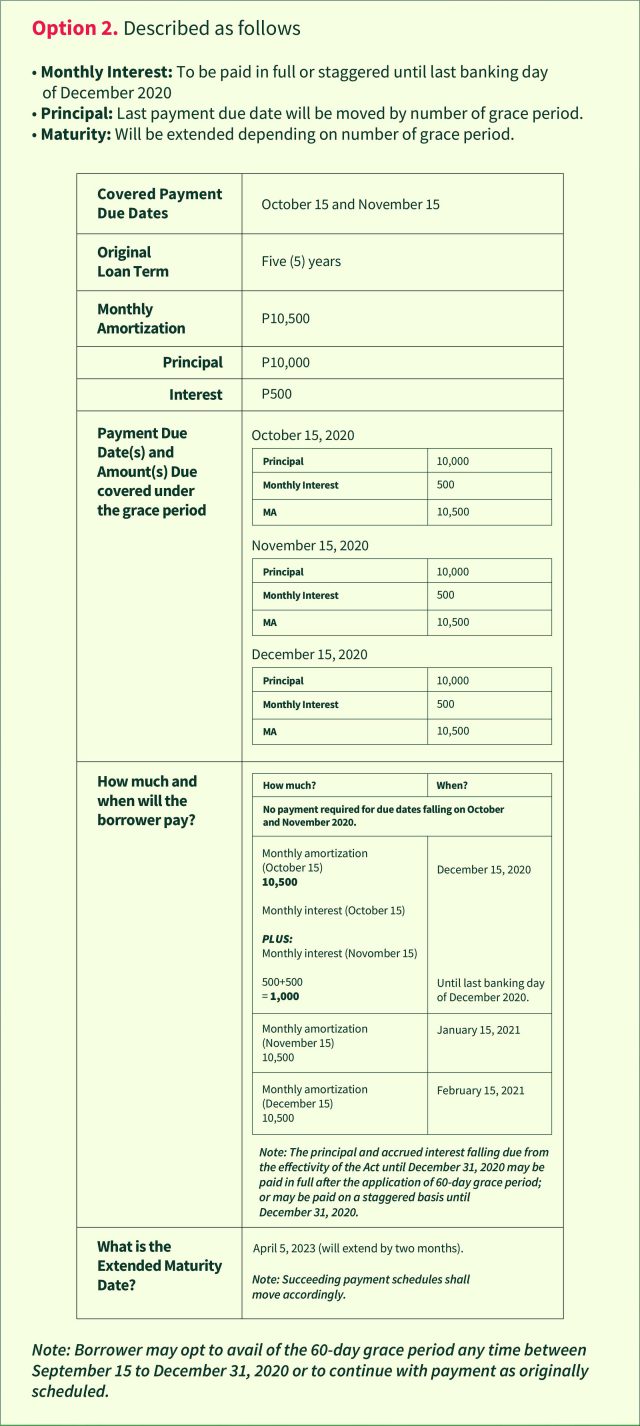 For more information, please refer to the following links:
https://www.robinsonsbank.com.ph/bsp-memorandum-no-m-2020-068-implementation-of-section-4uu-of-the-r-a-no-11494-or-the-bayanihan-to-recover-as-one-act/
https://www.robinsonsbank.com.ph/bsp-memorandum-no-m-2020-074-implementing-rules-and-regulations-rules-and-frequently-asked-questions-faq-on-section-4uu-of-the-r-a-no-11494-or-the-bay/