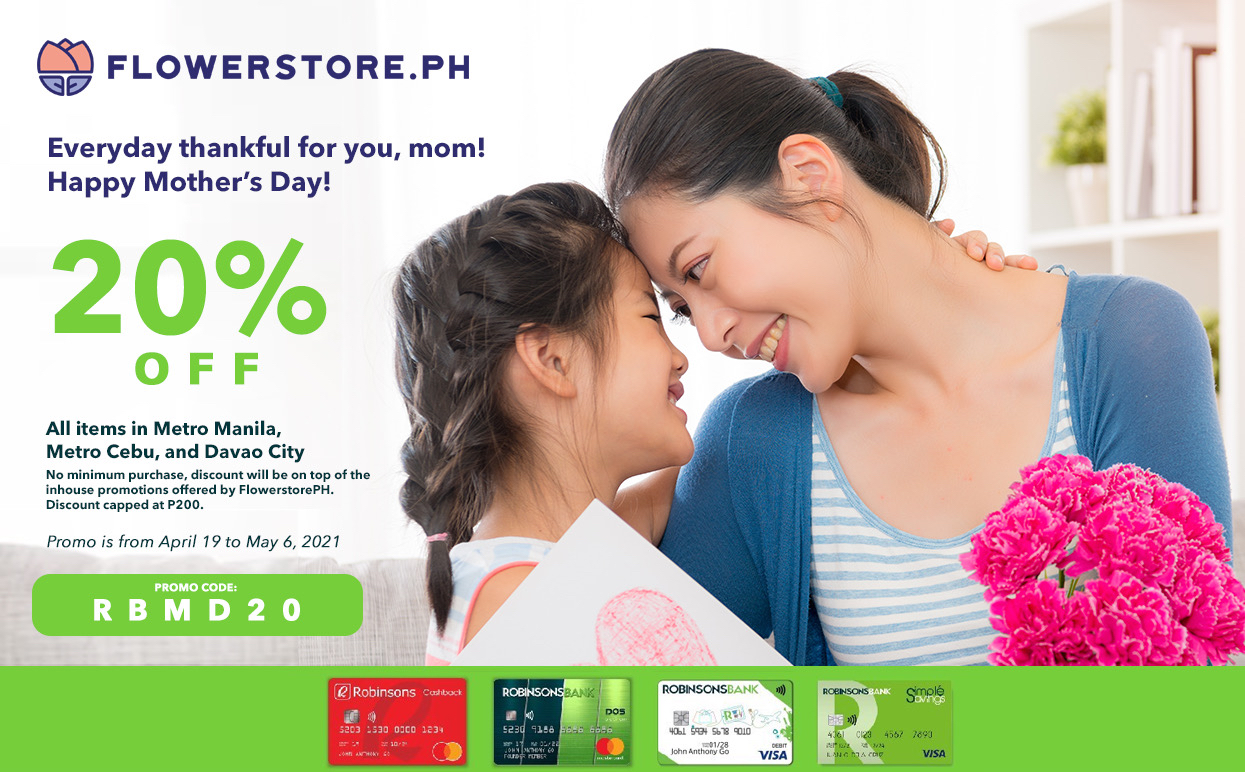 Flowerstore Mother's Day Promo
Terms and Conditions:
1. The promo is open to all Robinsons Bank Credit and Debit Cardholders of good standing*.
2. Promo Mechanics and Conditions:
The promo is from April 19 to May 6, 2021. All transactions must be made within promo period to avail of the promo.
The promo entitles the cardholders 20% off or maximum of P200 off for items for delivery within Metro Manila, Metro Cebu and Davao.
3. To avail of the promo, the cardholder must complete the following steps:
Go to Flowerstore.ph
Choose items you would like to avail
Choose personal message, delivery address, time and date
Complete payment and wait for delivery
4. Promo can be availed using promo code RBMD20 for Metro Manila, Metro Cebu and Davao.
5. Delivery address: Metro Manila, Cainta, Taytay, and in selected areas in Antipolo, Cebu and Davao. Please check Flowerstore Ph site FAQ for details.
6. The promo cannot be exchanged for other items or discount privileges and cannot be availed in conjunction with other promotions, and partner's VIP/Membership privileges. In the purchase of goods and services which are on promotional discount, the senior citizen can avail of the promotional discount or the discount provided under the Expanded Senior Citizens Act of 2010, whichever is higher.
7. The promotion is subject to terms and conditions of Flowerstore.ph and the terms and conditions governing the issuance and use of Robinsons Bank Credit and Debit Cards.
8. For promo related concerns and inquiries, cardholder may contact Flowerstore.ph at (63) 955- 2569757/(63) 998-4011550 or they may send email to contact@flowerstore.ph.
*Cardholders in good credit standing are those with Robinsons Bank credit and debit cards which are not reported lost, stolen, whose accounts are not delinquent, not under investigation due to suspected fraud, and those who have not violated any of the Terms and Conditions Governing the Issuance and Use of Robinsons Bank Credit and Debit Cards.
Per DTI-FAIR TRADE Permit No. 117415 Series of 2021