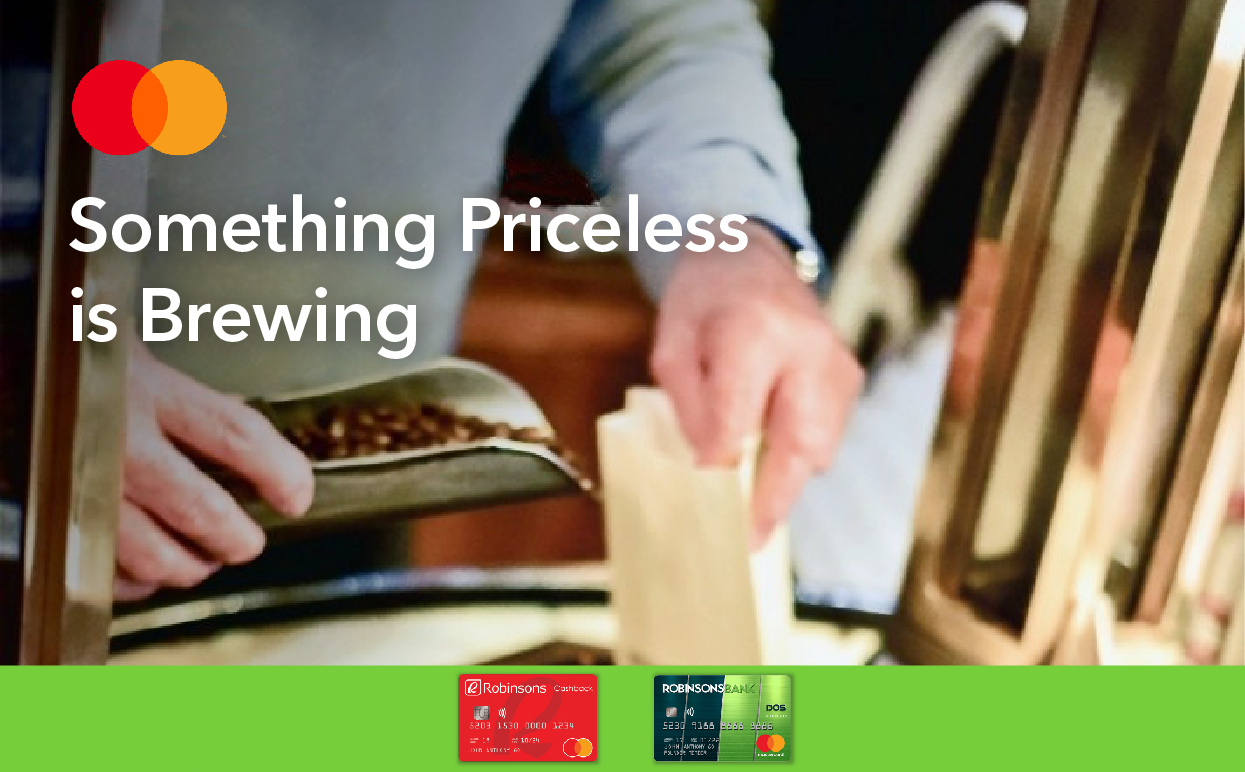 Mastercard® Coffee Experience with Barista Champion Lucky Draw
Terms and Conditions:
Participation in the promotion constitutes acceptance of these Terms and Conditions
The promotion period is from 3 May 2021 to 17 May 2021, both dates inclusive. ("Promotion Period")
Eligibility
This Draw is conducted by Mastercard and is open to all Robinsons Bank Credit Cardholders* who are registered members of Priceless.com.
Lucky Draw Qualifying Criteria
To qualify for the one-time Draw, Cardholders will need to

be an eligible Cardholder; and
register for the Draw via www.priceless.com/phcoffeeathome during the Promotion Period by clicking "ENTER" to earn one chance per Card. Registration will require the following information from Cardholder : email address, country, postal code, first name, last name, residential address, contact number, card number, cardholder name, card expiration month and year.
Registration is free.

Registration(s) received by Mastercard after the close of registration (after the end of the Promotion Period) will be considered as invalid entries.
Upon successful registration by the Cardholder, his/her name will be entered in the Draw pool during the Promotion Period. In order to qualify for the Draw, registration must be received successfully by Mastercard latest by the end of the Promotion Period.
Prizes and Winners
Limited quantities of the Prize are available. A total of 14 unique Cardholders ("Winners") will be randomly drawn from the total pool of registrants to receive the Prize witnessed by a DTI representative.
The Prize consists of one (1) invitation to a one-hour masterclass on coffee with the barista Michael Harris Conlin ("Talent") over a video conference call, to be scheduled on 12 June 2021 at 10am.

The Winners will receive a basic do-it-yourself coffee kit. The coffee kit will be delivered to the Winners' provided address
The Winners will be invited to submit one question for the Talent, in English language only, prior to the Prize event.
Mastercard reserves the right to refuse to use a Winner's question to Talent if the question is deemed inappropriate, harmful, harassing, illegal, offensive or for any other reason are deemed to be inconsistent with any applicable terms of use or other policies of any applicable platforms or providers, in each instance, in Mastercard's absolute and final discretion. If a question is deemed ineligible by Mastercard under this provision, Mastercard may select another replacement question from another Winner despite any first come first served language to the contrary that may be contained herein. There is no guarantee that Talent will answer any of the Winners' questions.
The Winner must have internet access and a phone or computer with a camera in order to participate in the Prize event.
The Winner must have access to Zoom or other applicable video sharing platform; by downloading an application or using the Zoom video sharing platform for purposes of streaming the Prize event, the Winner must acknowledge consent to the application's Terms of Service and all other applicable terms and conditions.
The Winner is expected to conduct himself/herself appropriately while participating in the video chat. Polite manners and respect for the artists and adherence to any rules or parameters are a must. Mastercard and/or any other relevant party reserve the right to suspend or cancel the video chat for the Winner who engages in a disruptive manner, or with intent to annoy, abuse, threaten, or harass any other person during the video chat.
The Winner is not allowed to screenshot, photograph, video record or in any way record the Prize event for distribution purposes of any kind.
Mastercard does not control responses provided by any third party host or presenter of an experience, and statements made by any such parties, including without limitation, talents and influencers, may not reflect the views of Mastercard. In addition, Mastercard does not endorse and is not making any recommendation regarding any products, services or other material that may be presented or described by any such third party during the experience.
Any applicable federal, state and local taxes/duties on the Prize and any expenses relating to the acceptance/use of the Prize not specified herein are the sole responsibility of the Winner.
There is no monetary value associated with the Prize.
Mastercard shall not be held responsible for wait times or delays or if the Prize event or internet connection cuts off, if another Talent take his place, or if the time of the Meet & Greet changes. Mastercard will make a reasonable effort to alert Winners if the time of the Meet & Greet changes.
All details of the Prize not specified herein shall be determined solely by Mastercard.
Draw and Draw Date
14 Winners will be randomly drawn by means of computerized draw after registration closes, on 19 May 2021 at 10am and witnessed by a DTI representative via video call. Mastercard shall have the right to draw a "reserve winner" to replace any Winner drawn who is subsequently found to be ineligible or disqualified, or failed to acknowledge the Prize.
If the Cardholder has met the eligibility requirements and has been randomly selected to receive the Prize, a Mastercard representative/Agency will contact the Winner via email and phone with further details and arrangement of the Prize.
Each Winner is entitled to receive only one (1) Prize during the Draw campaign.
Prizes are strictly non-redeemable for credit/cash, non-transferable, non-assignable and nonexchangeable, non-negotiable and non-replaceable if lost or stolen.
A Winner who has been awarded a Prize shall not be entitled to any compensation, benefits or substitution in any form whatsoever in lieu of the Prize and/or should any Prize be forfeited or reclaimed.
Every Winner's eligibility to participate in the Draw is subject to verification, and in the event that a Winner is verified by Mastercard to be ineligible to participate in the Draw, Mastercard shall have the right to disqualify that Winner without notice and award his/her Prize to a reserve winner.
Mastercard assumes no responsibility for incomplete, incorrect, lost, late, damaged, illegible, misdirected forms and Prize and/or other forms of communication which may result in the ineligibility of the Cardholder to participate in the Draw or to qualify for any Prize.
Personal Information & Data Usage
The Winners consent to Mastercard disclosing and/or publishing their names and pictures/photographs for the purposes of marketing the Digital Coffee Masterclass. The Winners shall cooperate with and participate in publicity activities organized by Mastercard without any compensation whatsoever and in such manner as Mastercard deems fit. In addition, by participating in this Draw, each participant consents to Mastercard disclosing his/her name, or any of his/her personal information to a third-party for the purposes of administering the Draw, including any person or entity involved in organizing, promoting or conducting the Draw for. The participants consent to the collection, use, processing, disclosure and transfer of the participants' personal data by/to Mastercard and such other third party for the purpose of the Draw and the participants confirm that they have read and agree to be bound by the terms of the Mastercard Privacy Policy, as may be amended, supplemented and/or substituted by Mastercard from time to time, a copy of which can be found on Mastercard website at https://www.mastercard.com. The failure by any Winner to comply with this clause shall result in his/her disqualification as a winner and to receive the Prize.
The participation in the Prize constitutes the Cardholder's consent that employees of Mastercard (or third parties on behalf of Mastercard) and/or media representatives are allowed to use:

The Cardholder's image, audio and video recordings, questions or any additional information that is sent in along with the Cardholder's submission for this Prize.
Without any limitations of time, place or contents, Mastercard and its associated companies or companies Mastercard is cooperating with and the press are entitled to use, publish and, within the framework of the purposes mentioned, employ and edit this content for marketing purposes, in so far as these are connected to Mastercard.
Recording and using these recordings and information in the scope described does not entail any remuneration demands by the Mastercard Cardholder.
General
By participating in this Draw, participants agree to release and hold Mastercard harmless from any and all liability whatsoever for any injuries, losses or damages of any kind to any person or property arising from or in connection with, either directly or indirectly: a) the awarding, acceptance, receipt, possession, use or misuse of any Prize or parts thereof awarded pursuant to the Draw; and b) the participation in the Draw or any prize-related activities.
Notwithstanding anything herein, Mastercard has the absolute discretion in concurrence with DTI to determine the eligibility of a customer to participate in the Draw or receive a Prize. Mastercard's decision on all matters relating to the Draw in concurrence with DTI shall be final and binding on all participants. Except for the notification email issued by Mastercard pursuant to Clause 9 (after any verification as may be required has been completed), Mastercard shall not be obliged to enter into any correspondence on any matter with any party concerning the Draw.
Mastercard may vary these terms and conditions in concurrence with DTI.
The Prize is for personal use only and may not be resold or used for any commercial or promotional purpose whatsoever. Any resale or attempt to resell the Prize by the Cardholder is strictly prohibited and reselling the Prize by any method or using the Prize for commercial or promotional purposes is subject to loss of privileges to Prize.
A person who is not a party to these terms except for DTI may not enforce any of them and notwithstanding any terms herein, the consent of any third party is not required for any variation of the terms of the Draw (including any release or compromise of any liability) or termination of the Draw.
*Cardholders in good credit standing are those with Robinsons Bank credit cards which are not reported lost, stolen, whose accounts are not delinquent, not under investigation due to suspected fraud, and those who have not violated any of the Terms and Conditions Governing the Issuance and Use of Robinsons Bank Credit Cards.
Per DTI FTEB Permit No. 117787 Series of 2021