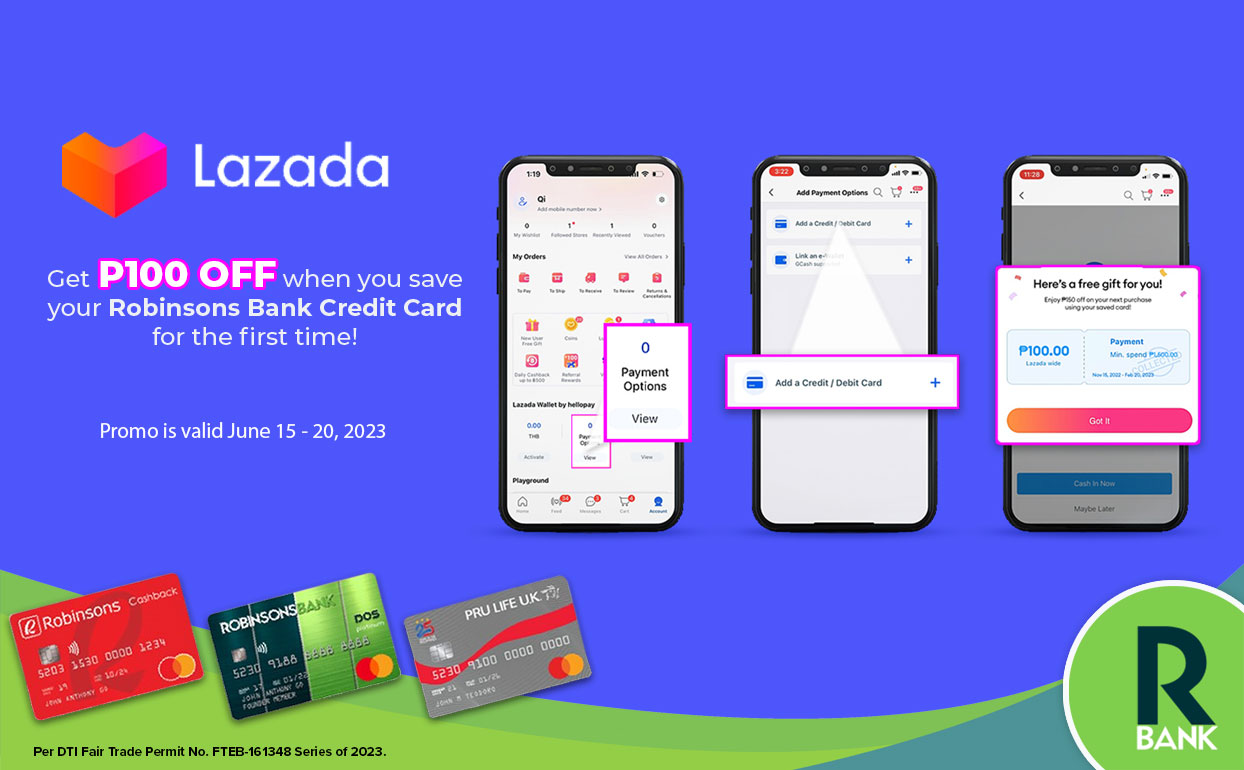 Mastercard x Lazada Card on File Promo
Qualification
The promo is open to all Robinsons Bank UNO, DOS, Robinsons Cashback, and Pru Life UK Credit Cardholders of good standing*. Promo is not applicable to Robinsons Bank Corporate Credit Card.
Promo Period: June 15 – 20, 2023
Prom Offer: Save your Robinsons Bank Credit Card and get Php 100 OFF
The Promo is valid on regular and sale items at
Saving credit or debit cards must be made on promo periods indicated from 12:00 am to 11:59 pm Philippine Open for up to 5,000 voucher redemptions with option to top up.
Saving credit or debit cards must be done on either the My Account or Lazada Wallet pages only. Cards saved upon checkout will not be eligible for the voucher reward.
PHP 100 discount applies for a minimum transaction amount of PHP 2,000 charged to Robinsons Bank Credit Card. Minimum spend applies to the total amount in cart prior to any discounts.
The discount will be available in the voucher wallet immediately upon saving the card on the Lazada platform.
Redemption period of voucher reward is from June 15 – August 20, 2023. Voucher is valid for one-time use for transactions at the Lazada mobile app
Discount will apply when the voucher is selected at the Payment Page and the eligible Robinsons Bank Credit Card is selected as the payment Customer must check if voucher is applied before proceeding to final check-out.
Terms and Conditions
Only customers who save their card within the promo period are eligible for card on file rewards.
Discount can be used once throughout the valid redemption period.
Discount is applicable to Robinsons Bank Credit Cardholders.
Voucher can be applied at the checkout only when the customer has met the minimum spend requirement and has selected Robinsons Bank Credit Card as the payment method.
Discount is not exchangeable for cash, credit or other goods and services.
Discount cannot be applied retroactively.
Discount is not applicable to items marked "Discount not applicable on this item".
All cancelled orders will not be valid for re-instatement of Instant Off discounts.
The use of discount is subject to the Lazada Voucher Terms and Conditions.
*Cardholders in good credit standing are those with Robinsons Bank Credit Cards which are not reported lost, stolen, whose accounts are not delinquent, not under investigation due to suspected fraud, and those who have not violated any of the Terms and Conditions Governing the Issuance and Use of Robinsons Bank Credit Cards.
Per DTI Fair Trade Permit No. FTEB- 161340 Series of 2023