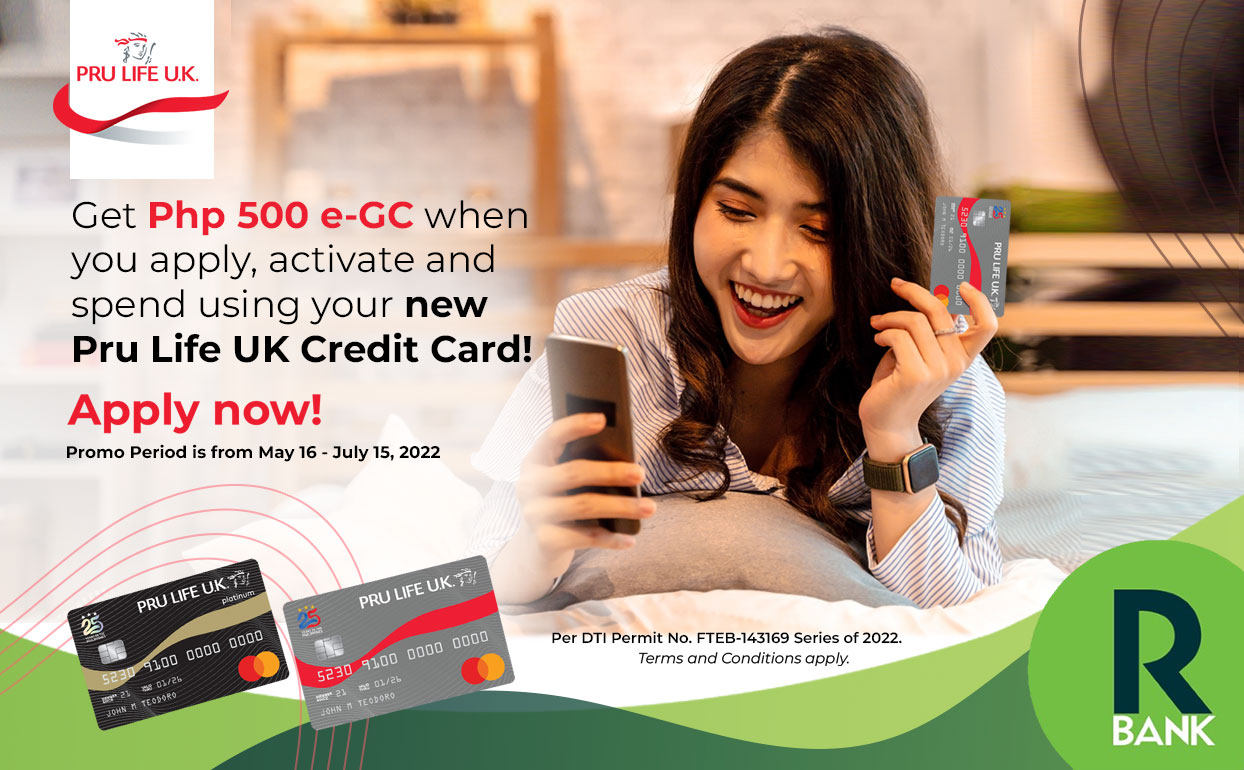 Pru Life UK Credit Card Apply and be Rewarded Promo
Terms and Conditions:
1. The Apply and Be Rewarded Promo is open to existing Pru Life UK Policyowners, agents, & employees applying for a Pru Life UK Credit Card powered by Robinsons Bank (Platinum Mastercard or Classic Mastercard) from May 16, 2022 to Jul 15, 2022 (Promo Period).
2. Newly approved Cardholders are entitled to receive a maximum of one (1) P500.00 BCode (E-Voucher) for this promo, once they meet all of the criteria below:
a. Newly approved and activated Pru Life UK Classic or Platinum Mastercard Cardholder
b. Application date and approval date must be within promo period.
c. Activation date must be within activation period
d. With minimum spend of P3,000 (single transaction receipt) within the spend period (indicated in item number 12)
Criteria
Qualified Redemptions
Newly approved Pru Life UK Credit Card and must have applied within the promo period
1 Per Qualified Client Only
( via Registered Number)
Must be activated within the activation period
Minimum spend of P3,000 on a single receipt within the spend period
3. To activate the Pru Life UK Credit Card, Cardholder may:
a. Text RBANK ACTIVATE <First Name/Last Name/Last 4 Digits of Card> to 2256
b. Call Robinsons Bank Customer Care Center (C3) at +632 8637-2256
c. Send an email to C3@robinsonsbank.com.ph
4. Qualified Spend Transactions: Straight retail transactions using Pru Life UK Classic or Platinum Mastercard and posted during Spend Period (indicated in item number 12)
5. Installment purchases, recurring bills payment, Convert-to-Cash, Balance Transfer, Transaction Conversion, and Balance Conversion, finance charges, and all other fees are disqualified in the promo.
6. Purchase of any Pru Life UK product is not required to join this promo.
7. The qualified Cardholders may only redeem once. The BCode is non-transferable and non-convertible to cash.
8. BCode is subject to the terms and conditions of M2 Cash (provider of BCode).
9. Awarding of BCode will be via the registered mobile number of the qualified cardholders.
10. Qualified cardholders must be current and in good credit standing*. Otherwise, he/she shall be disqualified from the promo.
11. BCodes may be redeemed at the following participating merchants:
a. Shakey's Pizza
b. Pancake House
c. ChaTime
12. Dates relating to the acquisition promo:
| | | | | |
| --- | --- | --- | --- | --- |
| Application & Approval Period | Activation Period | Spend Period | Awarding Period | Redemption Period |
| May 16, 2022 – Jun 15, 2022 | Up to July 15, 2022 | Up to Aug 15, 2022 | Sep 15, 2022 | Up to Nov 15, 2022 |
| Jun 16, 2022 – Jul 15, 2022 | Up to Aug 15, 2022 | Up to Sep 15, 2022 | Oct 15, 2022 | Up to Dec 15, 2022 |
13. RBank holds the right to certify whether the qualifying Cardholder is an eligible Cardholder and his/her account satisfies the criteria set in the Promo Mechanics.
14. All matters and disputes will be subject to the final decision of RBank and its partner merchant in concurrence with DTI, will be deemed final and irrevocable.
15. By joining this promo, the Cardholder confirms that he/she has read, understood and agreed to the mechanics of the promo including, but not limited to, these terms and conditions.
16. The Terms and Conditions governing issuance and use of RBank Credit Cards are incorporated herein by reference and made an integral part hereof.
Per DTI-FAIR TRADE Permit No. FTEB-143169 Series of 2022