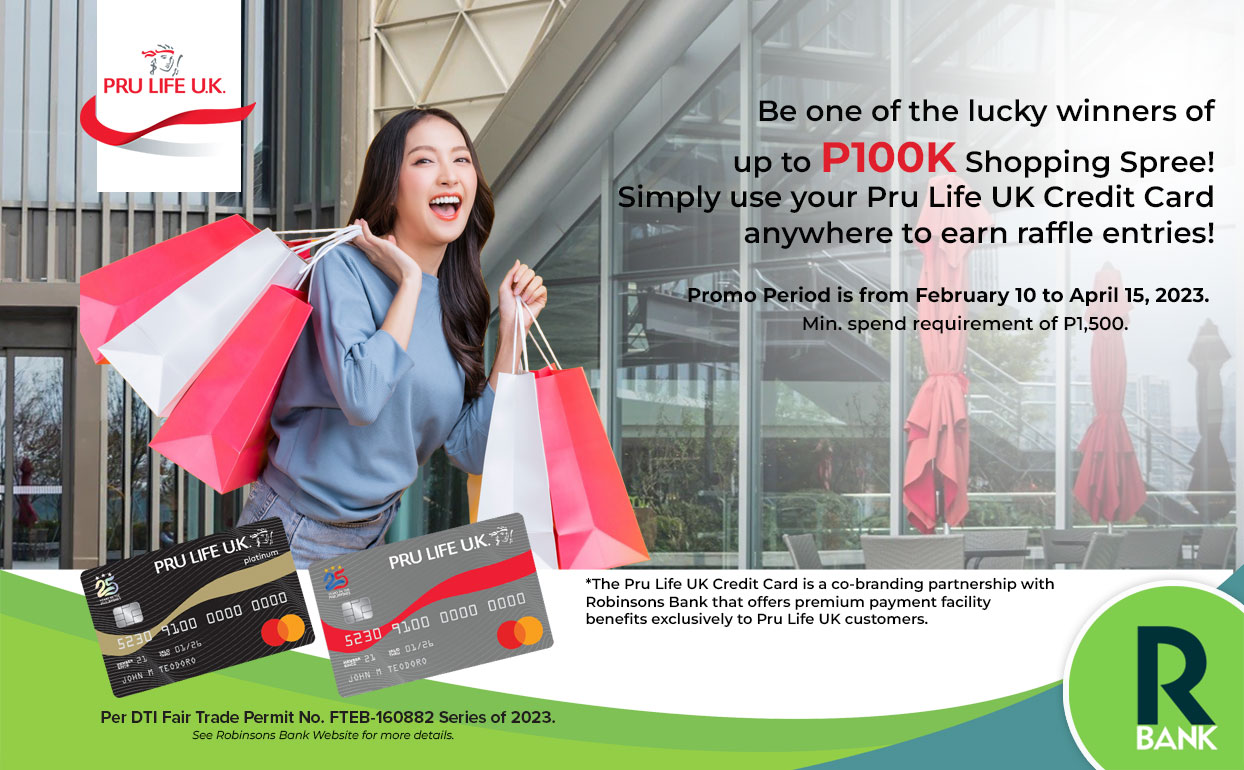 Pru Life UK Credit Card Raffle Promo
The Raffle Promo is open to existing Pru Life UK Credit Card (Classic Mastercard & Platinum Mastercard) cardholders with good credit standing*.
Promo & spend period is from February 10, 2023 to April 15, 2023.
Cardholder shall earn electronic raffle entries based on the following criteria:
a. Transaction/s with minimum spend of P1,500.00 within a single receipt
b. If said receipt has a minimum spend of P1,500.00, for every succeeding P1,500.00 value within that receipt, cardholder shall earn another raffle entry.
For ex.:
Transaction A is worth 1,499.00 only and will NOT earn a raffle entry.
Transaction B is worth 1,550.00 only and will earn 1 raffle entry.
Transaction C is worth 4,600.00 only and will earn 3 raffle entries.
      Purchase of any Pru Life UK product is not required to join this raffle promo.
Qualified Spend Transactions: Straight retail transactions using Pru Life UK Classic or Platinum Mastercard and posted during Spend Period.
Installment purchases, recurring bills payment, Convert-to-Cash, Balance Transfer, Transaction Conversion, and Balance Conversion, finance charges, and all other fees are not qualified transactions for the promo.
Raffle numbers will be computer generated and will be electronically drawn.
Electronic raffle draw will be on April 28, 2023 and will be held in the presence of Department of Trade and Industry (DTI) and Robinsons Bank representatives. Draw time shall be on 3:00pm of said date via MS Teams call (located at 24F, Cards Issuing Group, Robinsons Equitable Tower, ADB Ave., Quezon City).
There shall be a total of 41 winners of eVouchers.
| | | |
| --- | --- | --- |
| Prize Amount |   |   |
| 1Pass eVoucher | No. of Winners | Total Amount |
| PHP 5,000 | 30 | 150,000 |
| PHP 10,000 | 10 | 100,000 |
| PHP 100,000 | 1 | 100,000 |
| | | 350,000 |
Winners will be notified, initially, via registered mail.
EVouchers will be awarded via SMS to the winners within 30 days after the raffle draw date. Cardholder must have his / her Taxpayer's Identification Number (TIN) ready for validation purposes.
EVouchers must be redeemed within 60 days upon receipt of registered notice. Unredeemed e-Vouchers shall be forfeited after the said date. For further breakdown of dates relating to the promo, kindly see the following:


| | | | |
| --- | --- | --- | --- |
| Promo Period | Raffle Draw Date | Awarding Period | Redemption Period |
| Feb. 10, 2023 to Apr. 15, 2023 | Apr. 28, 2023 | May 31, 2023 | up to Jul. 31, 2023 |

EVouchers shall be provided by Robinsons Bank in partnership with 1ISA Inc. and are subject to the terms and conditions of 1ISA Inc. See in annex A the list of participating merchants.
Cardholder can only win once during the raffle draw. Once a Cardholder's name is drawn, he/she may no longer win on the succeeding draws.
The winning transaction should not be a reversed or disputed transaction at the time of the raffle draw verification.
The prize tax will be shouldered and paid for by Robinsons Bank.
The eVouchers cannot be exchanged for other items or discount privileges and cannot be availed in conjunction with other promotions, and partners' VIP/Membership privileges.
Authority of Robinsons Bank to disclose and publish the winners' name, photos, and other particulars determined by Robinsons Bank deem appropriate for advocating the promotional activity is secured. Publication shall be on the Robinsons Bank website and Robinsons Bank's social media platforms (ex. Facebook). The winners may be required to participate in publicity programs which Robinsons Bank may organize from time to time in connection with the Promo and if so, such winners must attend the said functions. Expenses and/or costs in attending such functions will be shouldered by the winner.
Robinsons Bank holds the right to certify whether or not the winning cardholder is an eligible cardholder and his/her account satisfies the criteria set in the Promo mechanics.
All employees of Robinsons Bank, employees and agents of Pru Life UK, its advertising agencies, and their relatives up to second degree of consanguinity or affinity are disqualified from joining the Promo.
All matters and disputes will be subject to the final decision of Robinsons Bank and its partner merchant in concurrence with DTI, will be deemed final and irrevocable.
By joining this promo, the Cardholder confirms that he/she has read, understood and agreed to the mechanics of the promo including, but not limited to, these terms and conditions.
The Terms and Conditions governing issuance and use of Robinsons Bank Credit Cards are incorporated herein by reference and made an integral part hereof.
*Cardholders in good credit standing are those with Robinsons Bank credit cards which are not reported lost, stolen, whose accounts are not delinquent, not under investigation due to suspected fraud, and those who have not violated any of the Terms and Conditions Governing the Issuance and Use of Robinsons Bank Credit Cards.
Per DTI-FAIR TRADE Permit No. FTEB-160882 Series of 2023.
List of Participating Instaperx (1ISA Inc.) Merchants:
| | | | | |
| --- | --- | --- | --- | --- |
| Abenson | All Home | Allday Supermarket | Beyond The Box | Black Canyon Coffee |
| Bonchon | Digital Walker | Figaro Coffee Company | Gourdo's | Gyu-Kaku Japanese BBQ |
| Hi-Precision Diagnostics | Jing Monis Salon | Ka Tunying's | Landers | Morelli's Gelato Philippines |
| Pacsafe | Pet Express | Power Mac Center | RUNNR | Rustan's Department Store |
| S&R | SM Gift Pass | SSI – A|X Armani Exchange | SSI – Alexander McQueen | SSI – American Tourister |
| SSI – Banana Republic | SSI – Bally | SSI – Balenciaga | SSI – Beauty Bar | SSI – Bershka |
| SSI – Boss | SSI – Bottega Veneta | SSI – Burberry | SSI – Cartier | SSI – Charriol |
| SSI – CK Jeans | SSI – CK Underwear | SSI – Coach | SSI – Cortefiel | SSI – DKNY |
| SSI – Dune | SSI – Ermenegildo Zegna | SSI – Furla | SSI – GAP | SSI – Givenchy |
| SSI – Hamley's | SSI – Jessica | SSI – Jimmy Choo | SSI – Kate Spade New York | SSI – Kenneth Cole New York |
| SSI – Kurt Geiger | SSI – Lacoste | SSI – Longchamp | SSI – Lush | SSI – Marc by Marc Jacobs |
| SSI – Marks & Spencer | SSI – Massimo Dutti | SSI – MAX & Co. | SSI – Michael Kors | SSI – Nine West |
| SSI – Old Navy | SSI – Outlet | SSI – Polo Ralph Lauren | SSI – Pottery Barn | SSI – Pottery Barn Kids |
| SSI – Prada | SSI – Pull&Bear | SSI – Saint Laurent | SSI – Salvatore Ferragamo | SSI – Samsonite |
| SSI – Springfield | SSI – Stradivarius | SSI – Superga | SSI – Swarovski | SSI – Tod's |
| SSI – Tommy Hilfiger | SSI – Tory Burch | SSI – West Elm | SSI – Women's Secret | SSI – Zara |
| Sugarhouse | The Coffee Bean and Tea Leaf | Toby's Sports | Toy Kingdom | Urban Athletics |
| Urbanize | YSA Skin Care | | | |