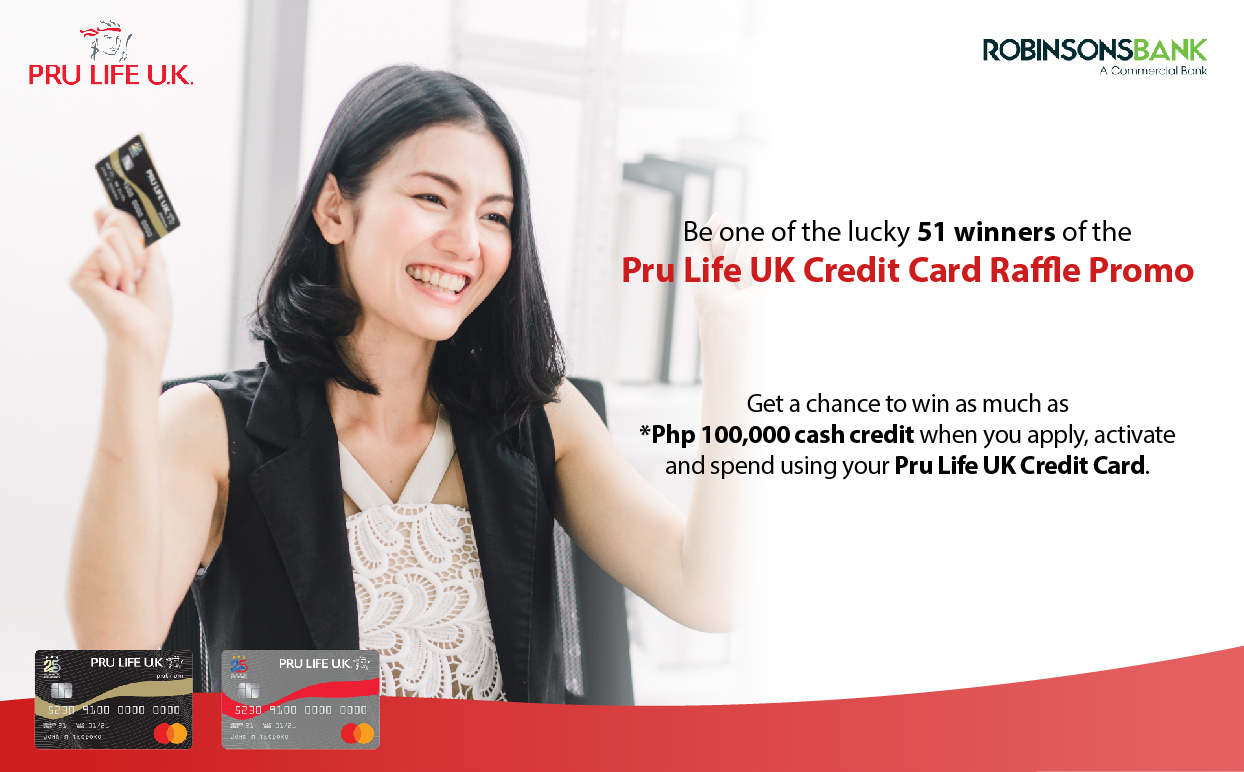 PRU Life UK Credit Card Raffle Promo
Promo Mechanics
The Raffle Promo is open to existing Pru Life UK customers applying for a Pru Life UK Credit Card (Platinum Mastercard or Classic Mastercard) within the Promo Period.
Promo period is from December 16, 2021 to February 15, 2022. Card availment and activation is from December 16, 2021 to January 31, 2022. Spend Period is from December 16, 2021 to February 15, 2022.
Cardholder must meet the following criteria (a & b) to qualify for the promo:
         a. Newly approved Pru Life UK Classic or Platinum Mastercard must be activated within the promo period. To activate the Pru Life UK Credit Card, you may:
Text RBANK ACTIVATE <First Name/Last Name/Last 4 digits of card> to 2256
Call Customer Care Center (C3) +632 8637-2256 or email C3@robinsonsbank.com.ph;
          b. With minimum spend of P2,000 (single transaction) from December 16, 2021 to February 15, 2022.
Cardholder shall earn electronic raffle entries based on the following criteria:
| | |
| --- | --- |
| Criteria | Raffle Entries |
| Newly approved and activated Pru Life UK Classic or Platinum Mastercard | 5 |
| For every minimum spend of P2,000 (single transaction) using their newly approved and activated Pru Life UK Classic or Platinum Mastercard | 1 |
Purchase of any Pru Life UK product is not required to join this raffle promo.
Qualified Spend Transactions: Straight retail transactions using Pru Life UK Classic or Platinum Mastercard and posted during Spend Period.
Installment purchases, recurring bills payment, Convert-to-Cash, Balance Transfer, Transaction Conversion, and Balance Conversion, finance charges, and all other fees are not qualified transactions for the promo.
Raffle numbers will be computer generated and will be electronically drawn.
Electronic raffle draw will be on March 1, 2022 and will be held in the presence of Department of Trade and Industry (DTI) and Robinsons Bank representatives.
There shall be a total of 51 winners of Cash Credits.


| | |
| --- | --- |
| Winners | Raffle Prize |
| 30 winners | 5,000 Cash Credits |
| 20 winners | 10,000 Cash Credits |
| 1 winner | 100,00 Cash Credits |

Cash Credits will be credited to the winning cardholders' credit card within 30 days after the raffle draw.
Cardholder can only win once during the raffle draw. Once a Cardholder's name is drawn, he/she may no longer win on the succeeding draws.
The winning transaction should not be a reversed or disputed transaction at the time of the raffle draw verification.
Winners will be notified by Robinsons Bank via their registered mobile number and email address within 15 banking days. Cardholder must have his / her Taxpayer's Identification Number (TIN) ready for validation purposes.
The prize tax will be shouldered and paid for by Robinsons Bank.
The Cash Credits cannot be exchanged for other items or discount privileges and cannot be availed in conjunction with other promotions, and partners' VIP/Membership privileges.
Authority of Robinsons Bank to disclose and publish the winners' name, photos, and other particulars determined by Robinsons Bank deem appropriate for advocating the promotional activity is secured. The winners may be required to participate in publicity programs which Robinsons Bank may organize from time to time in connection with the Promo and if so, such winners must attend the said functions. Expenses and/or costs in attending such functions will be shouldered by the winner.
Robinsons Bank holds the right to certify whether or not the winning cardholder is an eligible cardholder and his/her account satisfies the criteria set in the Promo mechanics.
All employees of Robinsons Bank, employees and agents of Pru Life UK, its advertising agencies, and their relatives up to second degree of consanguinity or affinity are disqualified from joining the Promo.
All matters and disputes will be subject to the final decision of Robinsons Bank and its partner merchant in concurrence with DTI, will be deemed final and irrevocable.
By joining this promo, the Cardholder confirms that he/she has read, understood and agreed to the mechanics of the promo including, but not limited to, these terms and conditions.
The Terms and Conditions governing issuance and use of Robinsons Bank Credit Cards are incorporated herein by reference and made an integral part hereof.
*Cardholders in good credit standing are those with Robinsons Bank credit cards which are not reported lost, stolen, whose accounts are not delinquent, not under investigation due to suspected fraud, and those who have not violated any of the Terms and Conditions Governing the Issuance and Use of Robinsons Bank Credit Cards.
Per DTI-FAIR TRADE Permit No. FTEB-131461 Series of 2021.
Winners:
P5,000 Cash Credits
Brainard Jasper A Lariosa
Christian B Suela
Judith D Franco
Willy Jr M Sentinta Jr
Leah C Barro
Mary Grace J Lim
Ma Katriz P Versoza
Mary Angel M Andaya
Joseph Randall S Cruz
Jordan P Mendoza
Stephany Grace J Felicitas
Rechel R Jovellanos
Rhandall Patrick D Ancheta
Junniella A Pangan
Roderick C Laxamana
Rochelle May C Ong
Gypsy L Canuto
Jeanette E Villena
Levine Dave N Nacino
Jasmin P Santiago
Freddie T Guarin
Kirk Louie E Del Mundo
Jonah F Gomez
Lodilyn B Rollon
Meil John I Barcemo
Christine C Barrion
Erwin B Chua
Ace Gregory F Aceron
Alexander B Mandigma
Angelica D Victorio
P10,000 Cash Credits
Jaynudine Ranyl C Balading
Cecille C Ignacio
Patrique Erika A Cancel
Tonie James A Suner
Lyndon Lauren A Balois
Cheryl S Hernandez
Rhodora B Ramos
Ronaldo A Rosario
Dianah Joyce R San Luna
Corazon B Jarce
Almira P Lopez
Maria Angela Monica C Alconaba
Karen Mariel M Mendoza
Dianne R Mallillin
Ma Antonette Capuz
Angeli A Baliao
Ronilo J Laboc
Kathleya T Gain
Hanah Alyana A Bunag
Belsie M Almonte
GRAND PRIZE WINNER – P100,000 Cash Credits