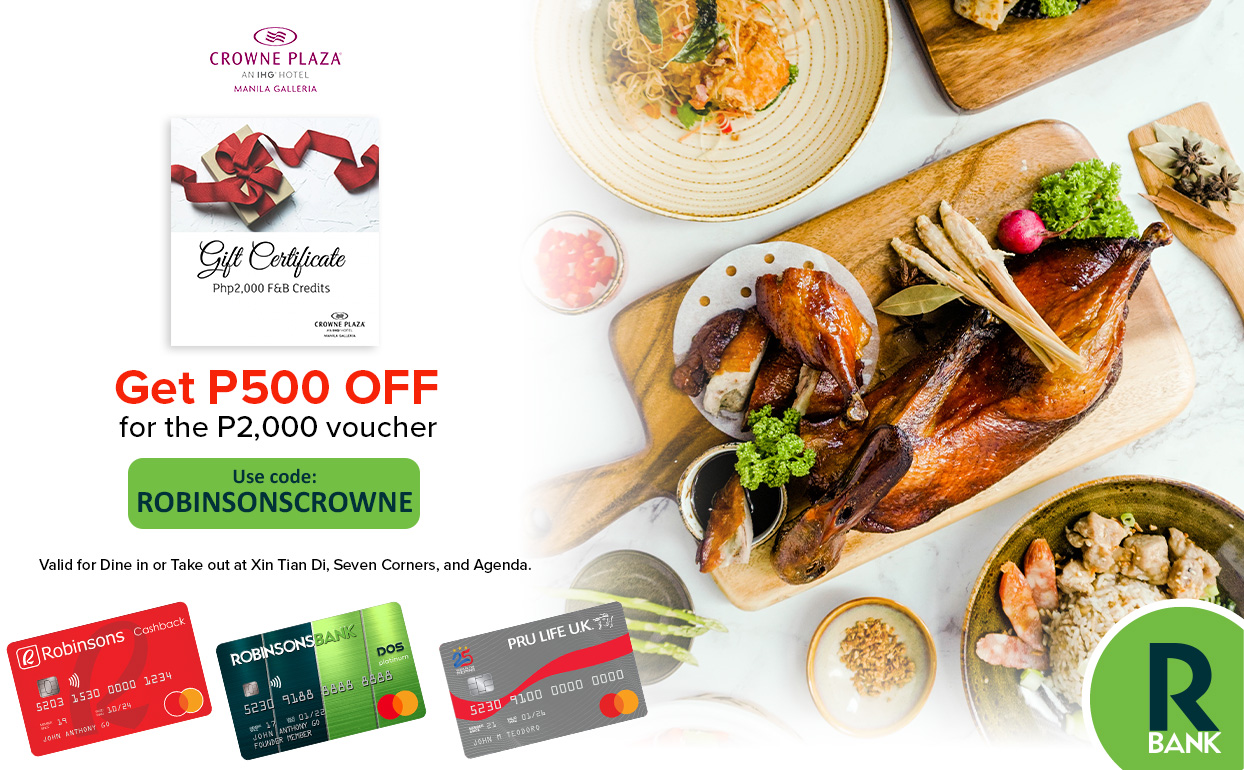 RBANK x CROWNE F&B VOUCHER SALE
The promo is open to all Robinsons Bank Credit Cardholders of good standing*, excluding Robinsons Bank Corporate Credit Cards.
Promo period is from February 1 – 28, 2022.
Purchase should be made via website at www.crowneplazamanila.com – Voucher F&B Credits.
Access the Voucher Sale Icon at crowneplazamanila.com and place an order.
Enter necessary details such as Name, Mobile Number and Email Address.
Use Discount Code: ROBINSONSCROWNE. Upon encoding the discount code, P500 will automatically deduct on the voucher.
Click RBANK PROMO as payment option.
Payment link will be sent to the mobile number encoded in order form.
Encode your Robinsons Bank Credit card details. Transactions will automatically decline if Robinsons Bank Credit Card was not used upon check out.
Once purchase has been successful, P2,000 vouchers will be sent via provided email address.
Cardholders can avail of as many vouchers during the promo period.
Valid for Dine in and Take out at Xin Tian Di, Seven Corners and Agenda.
Vouchers are redeemable from date of purchase.
Vouchers have no expiry and are transferrable as long as valid ID is presented upon use of vouchers.
Minimum of (1) one voucher per transaction. If in any case that the food ordered is more than P2,000, the exceeded amount may be settled thru cash or card. One voucher is good for one transaction only is not applicable for multiple use.
Black out dates apply: New Year's Day, Chinese New Year's Eve, Chinese New Year, Valentine's Day, Mother's Day, Father's Day, Christmas Eve, Christmas Day and New Year's Eve.
Advanced Reservation is required.
The promo cannot be exchanged for other items or discount privileges and cannot be availed in conjunction with other promotions, and partners' VIP/Membership privileges. In the purchase of goods and services which are on promotional discount, the senior citizen can avail of the promotional discount or the discount provided under the Expanded Seniors Citizens Act of 2010, whichever is higher.
Terms and Conditions Governing the Issuance and Use of Robinsons Bank Credit Card shall apply.
*Cardholders in good credit standing are those with Robinsons Bank credit and debit cards which are not reported lost, stolen, whose accounts are not delinquent, not under investigation due to suspected fraud, and those who have not violated any of the Terms and Conditions Governing the Issuance and Use of Robinsons Bank Credit and Debit Cards.
Per DTI-FAIR TRADE Permit No. 135996 Series of 2022