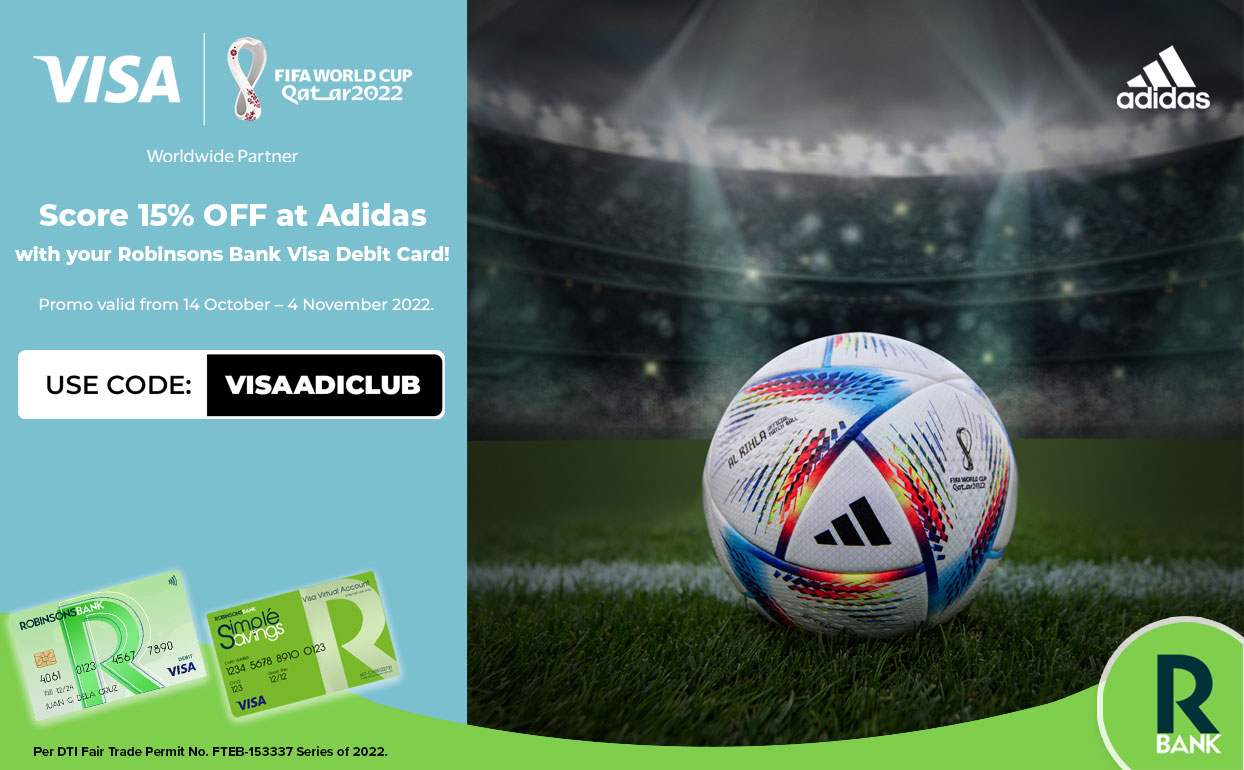 Score 15% OFF at Adidas with your Robinsons Bank Visa Debit Card!
Terms and Conditions
Offer is valid ONLY for adiClub members. adiClub membership is free, signup at adidas.com.ph/account-register.
Offer valid from October 14, 2022 to November 4, 2022 inclusive on adidas App and www.adidas.com.ph only.
Offer is valid across full-priced and outlet products. Full priced items will receive 15% OFF the recommended retail price, while outlet items will receive 15% OFF the current markdown price. While stocks last.
You must:

Be logged in to your adiClub account
Enter the coupon code VISAADICLUB in the "Enter your promo code" field on the checkout page and click "APPLY" before you click "REVIEW AND PAY";
Use your Robinsons Bank Visa Debit card, should be in good standing*, for payment on your purchase, to receive the discount on the valid items in your order, plus free shipping.
Orders will be confirmed when stocks' availability/delivery is confirmed to you in writing.
Exclusions: offer is not available for YEEZY, STATEMENT footwear, adidas x Gucci collection, IVY PARK collection, Hype and Premium articles as determined by adidas in its sole discretion, and this list here: selected articles (view link for list).
Offer not redeemable for cash and not valid in conjunction with any other offer. No discounts or vouchers may be used.
Offer not valid for third party online retailers of adidas products or for adidas retail stores. This offer cannot be redeemed against prior purchases. Offer can be redeemed multiple times throughout the promotional period.
All items returned in line with the returns policy will be refunded at the transaction cost. Discounts will not be applied to repurchases post returning after the conclusion of the sale and will be at the prevailing advertised price at the time of repurchase.
The usual delivery timeframes may be affected due to major events and activities, government restrictions and/or the increase in amount of orders for shipment. We appreciate your understanding.
Except for any liability that cannot by law be excluded, adidas (including its officers, employees and agents) excludes all liability for any death, personal injury, loss or damage (including loss of opportunity and whether direct, indirect, special or consequential) suffered or incurred by any person (whether or not arising from any person's negligence) arising in any way out of or in connection with:

This promotion
Any theft, unauthorized access or third-party interference
Any technical difficulties or equipment malfunction (whether or not under adidas' control);
The cancellation, termination, modification, suspension or rescheduling of this promotion.

In the event of conflicting purchases leading to stock insufficiency, adidas has the right to cancel any purchase. adidas will, of course, inform you immediately and reimburse any payments made.
If for any reason this promotion is not capable of running as planned, including as a result of infection by computer virus, bugs, tampering, unauthorized intervention, fraud, technical failures or any other causes beyond the control of adidas which corrupt or affect the administration, security, fairness, integrity, safety or proper conduct of this promotion, adidas, subject to the approval of the Department of Trade and Industry ("DTI") reserves the right in its sole discretion to cancel, terminate, modify or suspend the promotion.
adidas is not responsible for any failure to complete your transaction, or any problems or technical malfunction of any telephone or network or lines, servers or providers, computer equipment, software, technical problems or traffic congestion on a mobile network, or any combination of these, or any other technical failures including any damage to any person's mobile handset or computer related to, or resulting from, this promotion.
adidas does not accept any responsibility for late, lost, incomplete, delayed, corrupted or misdirected transactions, whether due to error, omission, alteration, tampering, deletion, theft, destruction, transmission interruption, communications failure or otherwise.
Any fraudulent behavior may result in cancellation of any order and/or inability to access the adidas App, www.adidas.com.ph or any other adidas website. adidas has the right, in its sole discretion, to disqualify or prohibit from participating in the promotion any individual who adidas believes has engaged, has attempted to or intends to attempt to engage, in conduct that annoys, abuses, threatens, or harasses any other participant or any representative of adidas. The use of agents or automated devices, programs, or methods to participate is prohibited, and adidas has the right, in its sole discretion, to disqualify any participant that it believes may have participated using such an agent or automated device, program, or method.
Each Customer must comply with these Terms and Conditions. Each Customer indemnifies and will keep indemnified adidas (including its officers, employees and agents) in relation to all loss and damage whatsoever which is suffered (including but not limited to indirect or consequential loss) by adidas as a direct or indirect result of the Customer acting inconsistently with or breaching any part of these Terms and Conditions.
adidas, subject to the approval of the DTI, reserves the right to amend these terms and conditions at any time and without notice.
adidas, subject to the approval of the DTI, reserves the right to change, limit or cancel this promotion at any time.
Nothing in these Terms and Conditions excludes or modifies any rights at law and/or under the consumer guarantees which apply under Republic Act No. 7394, otherwise known as the Consumer Act of the Philippines, its implementing rules and regulations, and the relevant consumer laws.
The promo is subject to the Terms and Conditions of Governing the Issuance and Use of Robinsons Bank Visa Debit Cards.
*Cardholders in good credit standing are those with Robinsons Bank Visa Debit Cards which are not reported lost, stolen, whose accounts are not delinquent, not under investigation due to suspected fraud, and those who have not violated any of the Terms and Conditions Governing the Issuance and Use of Robinson Bank Visa Debit Cards.
Per DTI-Fair Trade Permit No. FTEB-153337 Series of 2022.