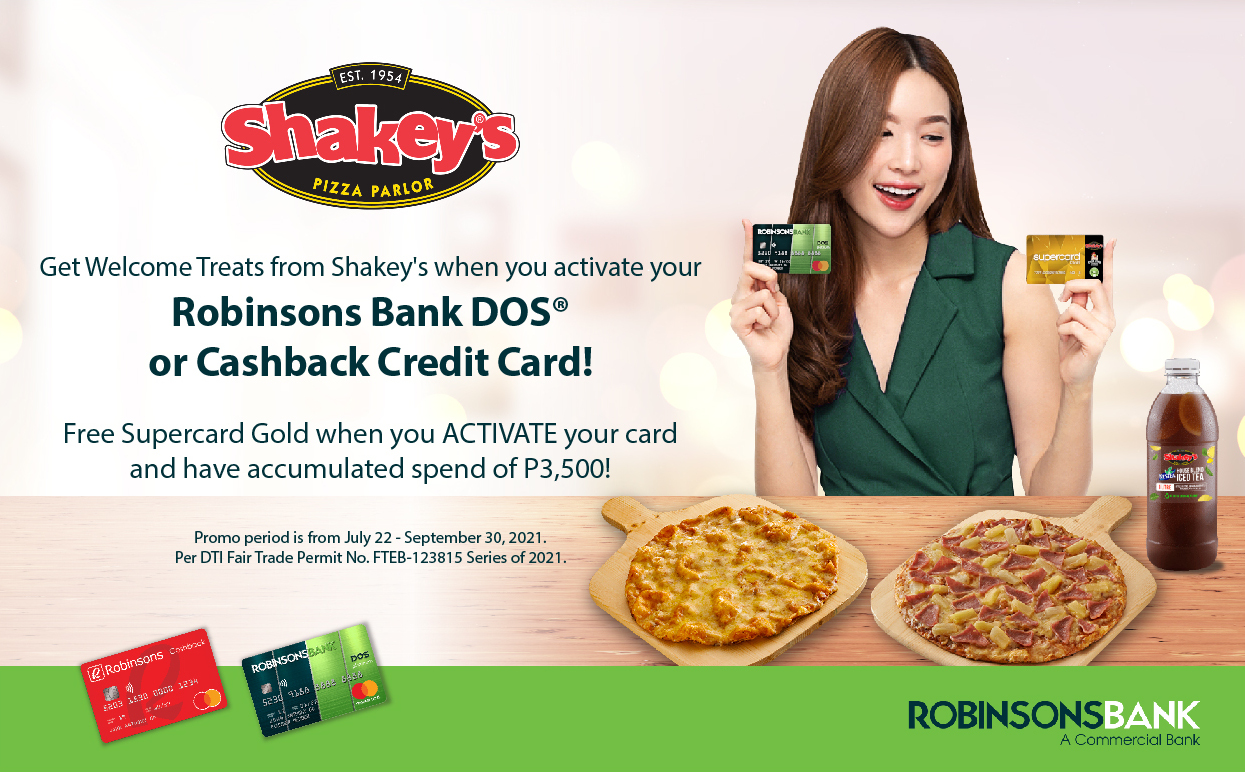 Shakey's Welcome Treat Promo
Terms and Conditions:
1. The promo is also open to qualified Robinsons Bank UNO, DOS and Robinsons Cashback Credit Cardholders who will receive an SMS and email notification from the bank and are of good standing*.
2. Promo is from July 22 to September 30, 2021.
3. To qualify for the Shakey's Welcome Treat, cardholder must:
• Activate the approved credit card during the promo period.
• Have an accumulated spend of P3,500 until October 31, 2021.
4. Cardholders who have qualified will be identified and verified through Robinsons Bank system. An SMS notification with a Bcode for the Shakey's Welcome Treat shall be sent out to Qualified Cardholders every cut-off date as stated below:
| | |
| --- | --- |
| From and To Date of Transactions | Receipt of Code |
| July 22 – August 15, 2021 | August 25, 2021 |
| August 16 – September 15, 2021 | September 25, 2021 |
| September 16 – October 31, 2021 | November 10, 2021 |
5. Welcome Treats will consist of:
• Shakey's Supercard Gold – Welcome Party Classic Pizza may be claimed upon registration of Supercard Gold
• 1L Houseblend Iced Tea
*Other Regular Supercard Gold benefits will be applied such as:
• Birthday Treats
• One-time 20% welcome discount for dine-in or carryout
• Buy 1 take 1 pizza from Shakey's
• 10% discount on dine-in bill
• Superpoints for dine-in and carryout bill
Shakey's Supercard Gold is valid for 1 year from date of registration.
6. The qualified cardholder must maintain his/her Robinsons Bank Credit Card active and in good standing for at least twenty-four (24) months from date of redemption of the Welcome Treat code (the "holding period"). If, at any time during the holding period, the qualified cardholder's account is cancelled, the amount equivalent to the Welcome Treat shall be charged to his/her credit card account.
7. Qualified Transactions are credited to the Cardholder under the following conditions:
a. Transactions made by the Primary Credit Cardholder and Supplementary Credit Cardholder/s will be credited as part of the Primary Cardholder's spend.
b. Transactions made via straight or installment purchase transacted and posted until October 31, 2021. For installment transactions, only the full installment amount shall be qualified to earn a Reward. As such, succeeding monthly amortizations of the same installment transaction will not be counted as separate transactions on Cardholder's account and therefore will no longer earn a reward.
8. Promo Exclusions: The following transactions are NOT qualified for this promo:
a. Any type Auto-charge, Utility/Recurring Bills, Loan payments, etc.
b. Transactions from casinos or from merchants engaged in gambling
c. Transactions from stock trading, forex trading, financial trading services, remittance, and the like.
d. Robinsons Bank Internal Installment Programs such as Balance Transfer, Balance Conversion and Convert to Cash.
e. All other non-earning points transactions
9. The promo cannot be exchanged for other items or discount privileges and cannot be availed in conjunction with other promotions, and partners' VIP/Membership privileges. In the purchase of goods and services which are on promotional discount, the senior citizen can avail of the promotional discount or the discount provided under the Expanded Seniors Citizens Act of 2010, whichever is higher.
10. Robinsons Bank reserves the right to charge the cost of resending the BCodes against the cardholder's Robinsons Bank Credit Card account due to but not limited to recently updated mobile number and accidentally deleted BCodes.
11. The cost of the free treat shall also be charged to the cardholder's Robinsons Bank Credit Card account should his/her redemption be found fraudulent.
12. Terms and Conditions Governing the Issuance and Use of Robinsons Bank Credit Card shall apply.
REDEMPTION PROCESS:
1. Bcodes can be redeemed in all Shakey's Branches.
2. Redemption of Bcode is vaid for dine-in and take-out only.
3. Bcodes are valid only until January 10, 2022. Bcodes that are not redeemed within specified period will be forfeited.
4. By redeeming and/or purchasing goods at participating merchant partners' retail stores, the cardholder agrees to be bound by the terms and conditions of purchase at the participating merchant partners' stores. Any concerns on product returns or exchange shall be covered under these terms and conditions and should be coursed directly to the merchant partners.
*Cardholders in good credit standing are those with Robinsons Bank credit cards which are not reported lost, stolen, whose accounts are not delinquent, not under investigation due to suspected fraud, and those who have not violated any of the Terms and Conditions Governing the Issuance and Use of Robinson Bank Credit Cards.
Per DTI-FAIR TRADE Permit No. 123812 Series of 2021