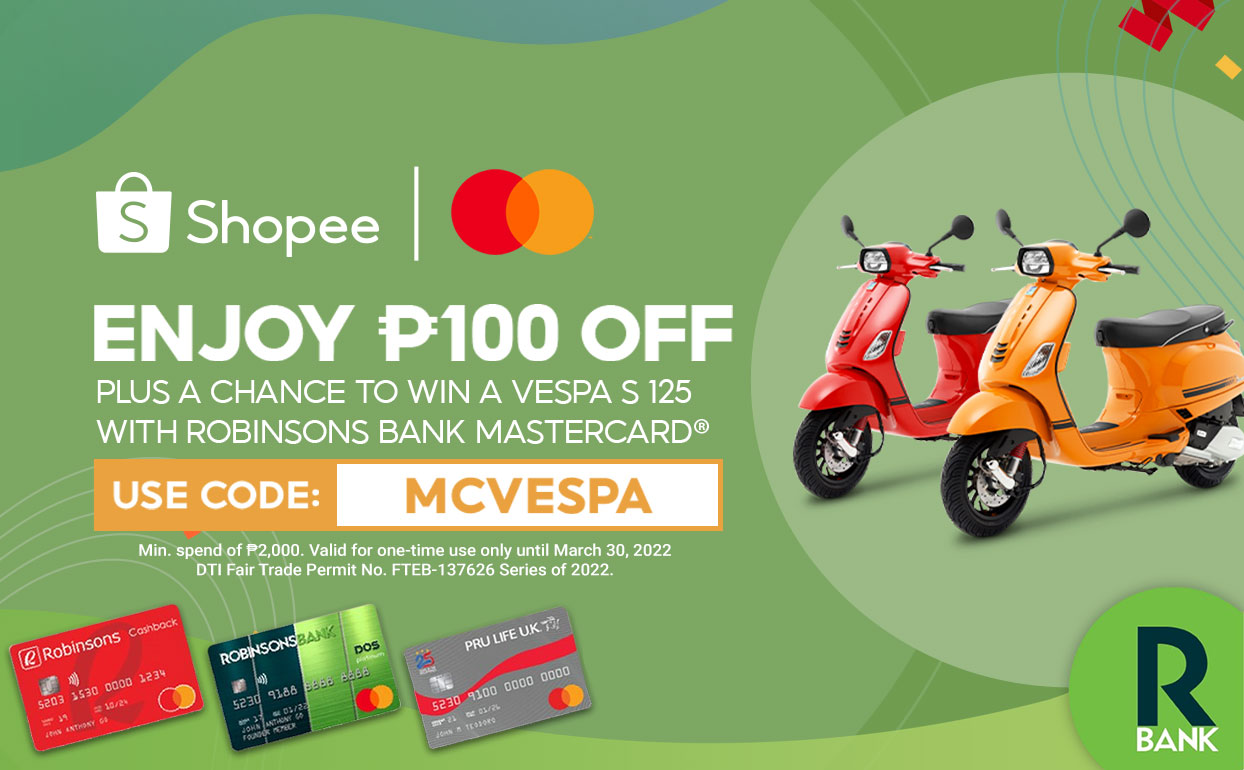 Shopee x Mastercard® Vespa
I. Qualifications
The promo is open to all Robinsons Bank credit cardholders (UNO, DOS, Robinsons Cashback and Pru Life UK Mastercard Credit Card) of good standing*.
II. How to Avail
Shop using the Shopee mobile app.
Select the items you wish to purchase and click "BUY NOW".
To proceed with checkout, enter your e-mail address and shipping details.
Enter promo code "MCVESPA" upon checkout.
Click "Select payment method" and choose "Credit / Debit Card" as option.
Select or add your Robinsons Bank Credit Card number and click "Confirm".
Promo discount will be automatically applied to your purchase upon checkout.
III. Terms and Conditions
The promo period until March 30, 2022.
To participate in this promo, qualified Robinsons Bank credit cardholders must purchase a minimum spend of P2,000 on Shopee, apply the promo code "MCVESPA", and pay using a participating Robinsons Bank Credit Card upon checkout within the promo period.
Eligible users are entitled to earn one (1) raffle entry and get a P100 discount on their Shopee purchase.
Promo voucher can only be used once. Users can only earn a maximum of P100 discount and 1 raffle entry throughout the promo period.
Deadline of earning raffle entries is on March 30, 2022 at 11:59pm.
Two (2) lucky winners will be chosen via electronic raffle draw in the presence of a DTI representative on April 18, 2022 via Zoom video call. Winners can only win once.
Only completed orders will be qualified to earn a raffle entry.
Each winner will win one (1) Vespa S 125 premium scooter bike.
Announcement of winners will be on Shopee's Official Facebook Page on April 25, 2022. Winners will be notified via Push Notification on April 25, 2022 and may be contacted by a Shopee representative for validation and awarding of prizes.
By participating in this promo, you agree to be contacted via push notification, SMS, or other forms of electronic communication with regard to your participation in this promo.
Users are highly encouraged to enable or turn on their Push Notifications.
Users are highly encouraged to update their Shopee Accounts with their full name, Shopee username, and active mobile number.
Prizes will be delivered to the winner's chosen-provided address, subject to delivery lead times and quarantine/lockdown protocols for affected areas as well as any national and local government protocol requirements or considerations. Any delivery date commitment is approximate and is not guaranteed. The delivery fee will be shouldered by Mastercard. Upon delivery of the prize, the winner must present one (1) original valid government-issued ID.
Applicable taxes on the prizes will be shouldered by Mastercard.
Shopee's decision to award the prize/s to the selected winners is final with the concurrence of DTI-FTEB.
Promo voucher cannot be applied retroactively.
With prior approval of DTI-FTEB, Shopee Philippines reserves the right to declare forfeiture of prize in the event that the winner fails to claim the prize within 60 days upon registered notice.
The discount and prizes are non-transferable and non-convertible to cash and/or other products.
Promo discounts are only valid on preferred and Shopee Mall stores excluding products under the "Load, Bills, and eServices" category.
Promo discount is valid on orders to be delivered via integrated couriers.
By joining this promo, the user confirms that he/she has read, understood, and agreed to the promo mechanics and its terms & conditions.
Shopee reserves the right to cancel transactions of accounts that are proven to be invalid or fraudulent (i.e. abuse of system).
Shopee reserves the right to vary these terms & conditions with prior approval of DTI-FTEB.
Employees of Shopee Philippines and Mastercard including their relatives up to second degree of consanguinity or affinity are disqualified from joining the raffle.
IV. Customer Support
For any questions or clarifications, please contact Shopee's Customer Service at (02) 88805200 or email support@shopee.ph.
*Cardholders in good credit standing are those with Robinsons Bank Credit Cards which are not reported lost, stolen, whose accounts are not delinquent, not under investigation due to suspected fraud, and those who have not violated any of the Terms and Conditions Governing the Issuance and Use of Robinson Bank Credit Cards.
Per DTI-FAIR TRADE Permit No. FTEB-137626 Series of 2022.