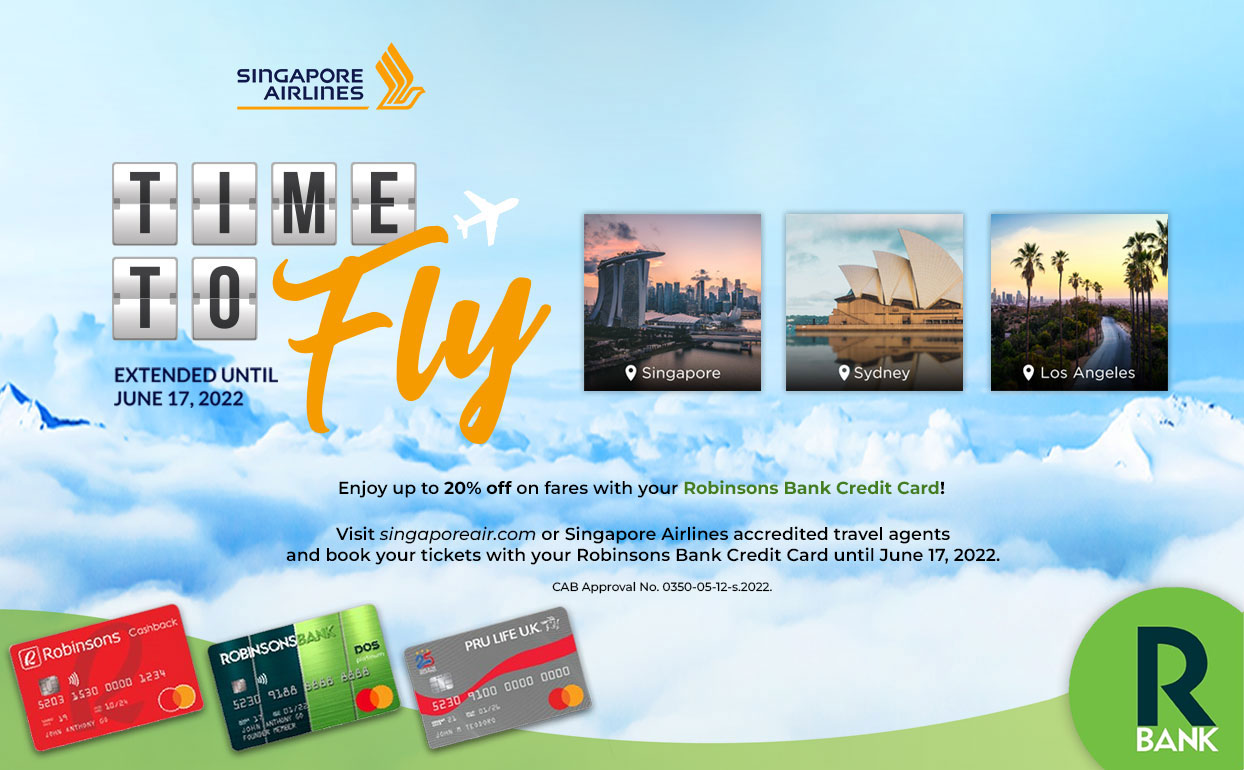 Singapore Airlines Time To Fly Extended Promo
Singapore Airlines Time to Fly promotional fares extended!
Promotional fares have been extended until June 17, 2022.
Enjoy up to 20% OFF on fares with your Robinsons Bank Credit Card! Visit scenic sights in Singapore from USD253, discover Australia's beauty from USD598 or experience new adventures in the United States of America from USD888, and more. PLUS, set your mind at ease and keep your travel plans flexible with complimentary rebooking. Visit https://www.singaporeair.com/en_UK/ph/travel-info/precautionary-measures/covid19-information-centre/complimentary-rebooking/#/book/bookflight for more info.
Travel Period:

Until December 31, 2022 – destinations in Southeast Asia, West Asia & Arica, and Southwest Pacific.
August 1 – December 31, 2022 – destinations in Europe, Canada, and USA.

Promo is open to all Robinsons Bank Credit Card of good standing*.
Visit singaporeair.com or Singapore Airlines accredited travel agents and book your tickets with Robinsons Bank Credit Card until June 17, 2022.
Find out more here: bit.ly/SQPHTimetoFlyFareDeals.
Terms and Conditions Governing the Issuance and Use of Robinsons Bank Credit Card shall apply.
*Cardholders in good credit standing are those with Robinsons Bank Credit Cards which are not reported lost, stolen, whose accounts are not delinquent, not under investigation due to suspected fraud, and those who have not violated any of the Terms and Conditions Governing the Issuance and Use of Robinson Bank Credit Cards.
CAB Approval No. 0350-05-12-s.2022.