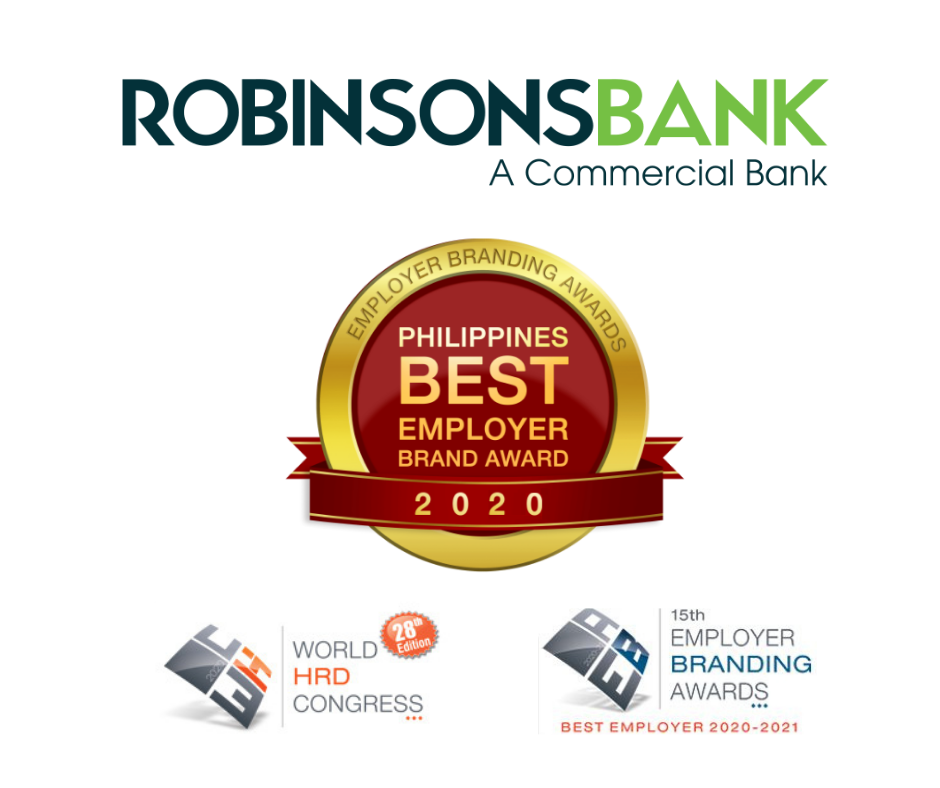 Robinsons Bank recognized as Outstanding Employer at PH Best Employer Brand Award 2020
Robinsons Bank is proud to receive this year's PHILIPPINES BEST EMPLOYER BRAND AWARD, in recognition of the Bank's work in effectively attracting, retaining, developing talent and other factors essential to a good working environment.
Winning organizations are determined through independent assessment and research, based on various criteria such as: ability to translate and combine vision with action for HR strategy, cultivation of competencies to build a future-ready organization, diversified culture, employee engagement and benefits and equal opportunities to all.
FVP, Ms. Laarni V. Ona, Head of Human Resource Management Group, accepted the award in behalf of 1901 RBankers in a virtual ceremony held last Saturday, October 10, 2020, alongside other organizations that are exemplary in Human Relations.
"It is with pride and joy that we accept the award for Best Employer Brand. In behalf of our President Mr. Elfren Antonio S. Sarte and our Chairman Mr. Lance Y. Gokongwei, we thank World HRD Congress and Employer Branding Institute for recognizing our endeavours to engage, develop and nurture our people amidst the pandemic, and still give back to the community we co-exist with. This is truly inspiring. To all Robinsons Bankers, this is for you. Congratulations!"
The yearly PHILIPPINES BEST EMPLOYER BRAND AWARDS is held by the Employer Branding Institute, a global network of senior HR leaders across 36 countries, who forward the sharing of best HR practices and contribute to the development of Talent Management, Talent Development, and Talent Innovation.