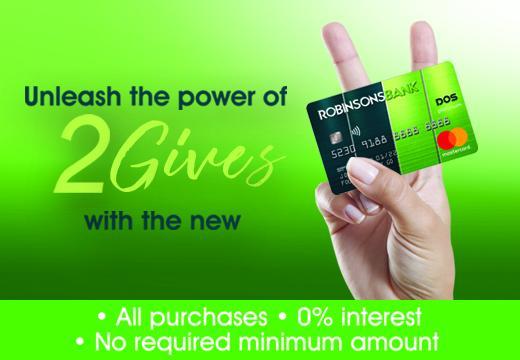 Unleash the Power of 2 Gives with Robinsons Bank's New Credit Card!
Imagine buying your round-trip ticket to Hong Kong at a seat sale for Php 3,000. With Robinsons Bank DOS MasterCard, you will be billed Php 1,500 this month and the other Php 1,500 will be billed the following month  at 0% interest. That's the power of 2-Gives with the all new Robinsons Bank DOS MasterCard!
Enjoy 2-Gives at 0% interest for all straight retail purchases with no required minimum amount plus, these other features and benefits with the Robinsons Bank DOS MasterCard:
Have peace of mind, thanks to the incorporated EMV-chip technology, one-time passwords for 3D Secure transactions, and SMS alerts for approved transactions
Spending more time on important things by breezing through payment with your contactless card through MasterCard PayPass
Experience the convenience of cashless transactions anywhere where MasterCard is accepted and pay in Philippine pesos
Enjoy more rewarding experiences by earning 1 Reward Point for every Php 50 spent with your Robinsons Bank Credit Card
Be one of our Founder Members and enjoy a lifetime waiver of annual fee. Just use your Robinsons Bank Credit Card at least 12 times within the year.
Available in both Platinum and Classic.
The full details of our brand new Robinsons Bank DOS MasterCard can be found in our cards section on our website.